Perfume
YSL's New "Black Opium" Makes its Debut
With 50 years of beauté under its belt, Yves St. Laurent is celebrating by giving us a fragrant gift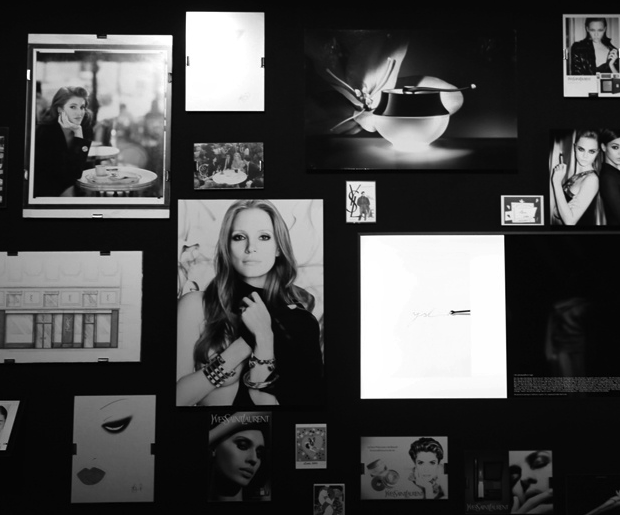 To celebrate the 50th anniversary of its first scent, "Y," Yves St. Laurent threw itself a two-part crème de la crème fête Tuesday night à Paris.
Those lucky enough to have been on the list for the "YSL Beauté Retrospective," got to peruse a gallery of iconic photos including ad campaigns from over the years (remember David Lynch directed a few of them), decades of top notch packaging and other memorabilia before being whisked from the private mansion in the 16th arrondissement to a secret location where the new "Black Opium" scent was unveiled for the very first time.
READ: Our Editors' Signature Scents
The fragrance, a "rock 'n roll" inspired update of the label's classic 1977 Opium, debuted as the sun set behind the Eiffel Tower in about as picture perfect a reveal as any marketing or PR person could've dreamed up.
Unlike the original, daringly named after the illicit drug, whose top notes are a mixture of fruit and spices, with mandarin orange, plum, clove, coriander and pepper and whose middle and bottom notes include everything from vetiver and sandalwood to peach and patchouli, the new iteration is said to be more "mysterious" than its iconic predecessor.
As WWD describes the campaign that the specially selected crowd was allowed to behold, it was "Designed to evoke a darker spirit for the brand, it was shot by up-and-coming director Daniel Wolfe and features British model Edie Campbell running through the streets of Shanghai."
The highly anticipated fragrance will be released on September but you'll start seeing the ads running in the July/August women's magazines.
11 Celebrity Fragrances We're Kinda Embarrassed to Love