Hairstyles
If You're Gonna Go Purple ...
Nicole Richie is the latest celeb type to go the alternative hair color route. But she had the sense to try it on first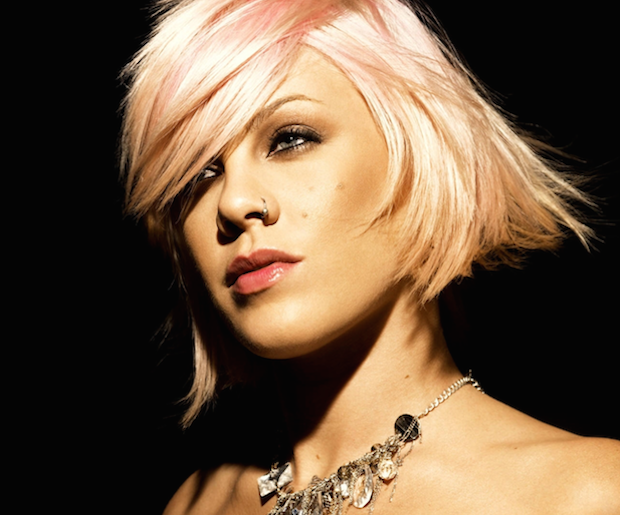 At the Oscars, Whoopi Goldberg may have made a (flaccid) joke about knowing Pink on such an intimate level that she calls her Alicia, but the point hit home.
Ever since she first hit the scene in 1999, you know back in the days when "L.A. told her she'd be a pop star, all you have to change is everything you are," and she promptly
didn't
, Pink/Alicia has had on-again/off-again/varying degrees of
pink
hair. That's her deal. That's her calling card. (Well, that and super sick aerial arts skills.)
Sure, as legions of 1980s Fiorucci-going kids will let you know, she wasn't the first to be "pink," but on her, it works. Similarly, that gray-violet shade Kelly Osborne favors works on her. But, while there are trends and looks that everyone can try, having an outrageous hair color is definitely not something to jump into lightly -- you have to have the personality to pull it off. Trust me, you're not going to see Gwyneth rocking cerulean hair -- just ain't gonna happen.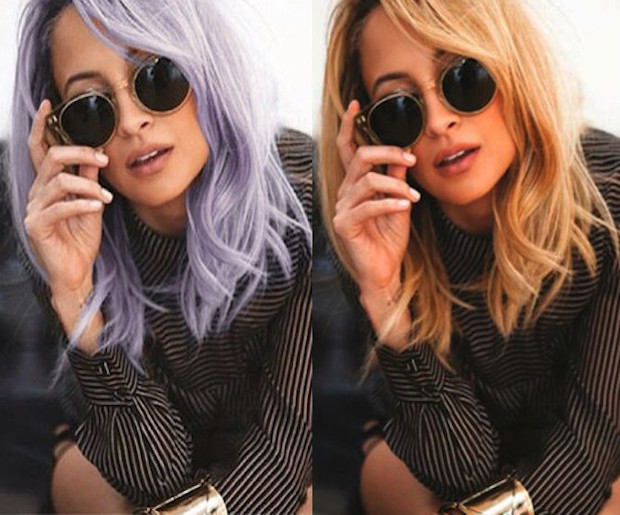 Heck, even Nicole Richie, who most certainly has the vibe to pull off
anything
from Chanel to Tilly's, thought twice before taking the purple plunge.
READ: The Best At-Home Hair Color Tips
Remember last week when she Instagrammed that bespectacled photo of herself with Osborne-like hair? Turns out we were being Punk'd -- the image was Photoshopped. Not that she was doing it to get one over on us. (Really, she has better things to do.) Rather, she was
trying on
the color before committing to it.
In her case, the color so well-suited her skin tone and it looked so great that she pulled the trigger and showed up with bona fide amethyst hair to a bunch of Oscar after parties. And, guess what? She doesn't look like some tacky, classless/clueless My Little Pony person.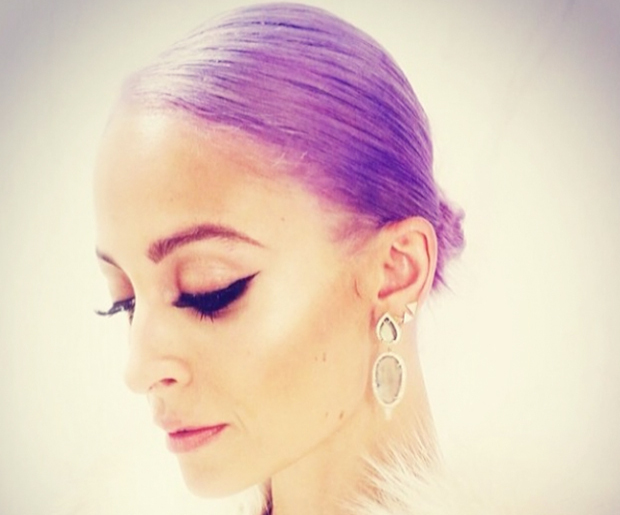 She did her homework, wears it with aplomb and because of that, pulls it off to the nth degree.
The takeaway here? If you're going to go outside the box (color), be smart about it.
• Pick a color that works with your skin tone.
• Pinching pennies on hair color is not a good idea. You want quality and in this instance, going cheap will more than likely leave you looking cheap.
• Consider,
really
consider, having it done by a pro. They're professionals for a reason.
• Go with two shades. Out of the box color will be flat, if not boring. Find two complementary shades and go to town.
If you go for it, go big and send us a photo (before & after would be even better). I'm
heavily
contemplating the move myself and will post my results here if I do take the leap ...
It's only hair. Right?
QUIZ: What's the Best Hair Color For You?
more stories