Health
Woman Faces Her Double Mastectomy With "Gangnam Style"
Doretta Norris dealt with her fear by dancing her way through her double mastectomy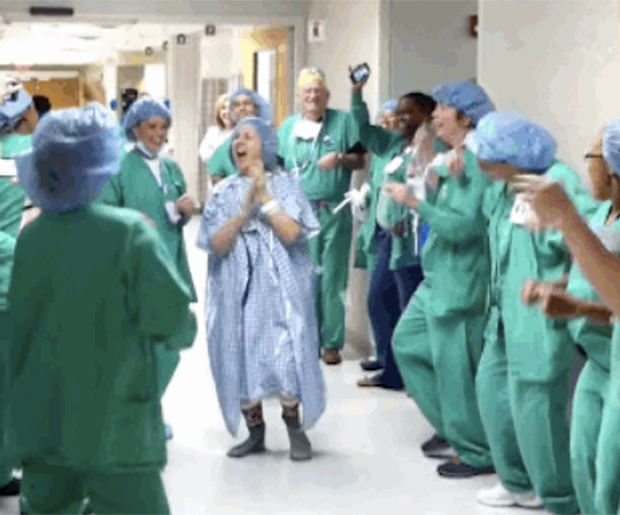 Doretta Norris was diagnosed with breast cancer last year and, as a part of her treatment, opted to get a double mastectomy. But she didn't want to go into surgery like any other patient.
So instead of the typical pre-surgery preparations, Norris -- inspired by fellow double mastectomy patient Deborah Cohan, who opted for a pre-surgery dance party to Beyonce's "Get Me Bodied" -- asked her surgeons to shake their booties with her. Her song of choice? Psy's ridiculously viral hit "Gangnam Style."
"I stepped out of my room and found hospital staff and doctors lining both sides of the hall," she said. "I heard the music playing and began to dance. It was an emotional dance. Staff came up to hug me, dance with me and give me words of encouragement. I truly felt like I could conquer the world."
Norris says it was just what she needed to get through the surgery. "The hospital staff could have given me medications, wheeled me into the operating room on a stretcher and that would be that," said Norris. "But the staff cared about me, acknowledged my struggle and helped me overcome a difficult time." Now, eight months later, she's cancer-free. [
BuzzFeed
]