Health & beauty
Julie Bowen Can't Figure Out Eyelash Curlers, Either
The actress takes time to tell us about her stripped-down beauty routine. Hint: It costs less than $20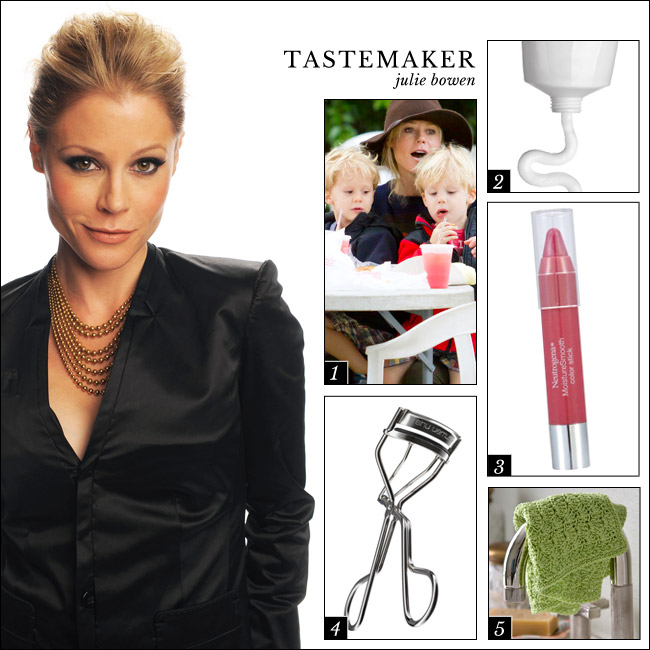 You may know Julie Bowen as the mom with the perfectly bouncy blowout on "Modern Family," but more often than not, family takes precedence over primping for the Emmy Award-nominated actress. We called her up to chat about how exactly she keeps her skin in such tip-top shape, how much her TV persona matches up with her personality and why a washcloth beats a fancy tool any day.
1) TB:
Is your beauty routine anything like your character's on "Modern Family"?
JB:
I think Claire's kids probably allow her a little more time in front of the mirror than my own children, given that she always seems to have a nice fresh blowout going on. My kids give me about 19 seconds in the morning. My skin is healthy, but I don't necessarily have the lipstick, eyeliner, mascara and a blowout going on.
2) TB:
What's a piece of beauty advice you used as a teen that you still use today?
JB:
It'd have to be sunscreen. My mom was a devotee of baby oil and those tinfoil things you put around you to tan, but as she was doing it she'd say, "Don't do this. It's very bad." I did get one really bad burn as a child. It was so uncomfortable that any time I'm in the sun without sunscreen for any period of time now it brings me back to that.
3) TB:
If you could create your own beauty product, what would the name be?
JB:
Oh gosh, I don't know. No Wrinkle, Dewy Skin Happy Fun Time Youth Dew. It sounds like a Chinese food. I don't know, because I'd want it to do so many things. I'm very simple in my routine now. I wash my face, do the retinol -- I'm obsessed with
Neutrogena Rapid Wrinkle Repair Eye Cream
-- and then sunscreen.
4) TB:
What is your most prized makeup product right now?
JB:
Right now I'm getting really into more color on the lips. I used to do a nude lip all the time. I just started using
Neutrogena MoistureSmooth Color Stick
in Bright Berry. It's not too shiny, not too matte. It says, "I know what year it is, but I'm not a slave to fashion." To me, a little color on the lips makes me feel like I've done so much more for my face.
5) TB:
Are you anything like Claire on "Modern Family" in your real life?
JB:
I am frequently in my own life looking around my kitchen trying to find someone to conspire with, because I'm amazed at what's happening. There are moments when I think, "Oh my lord, these people that I live with. I live with a pack of wild monkeys. I love them, they are the center of my life, but some of the conversations.... You know, like my son will say, "I'm going to go skateboard down the stairs." No, why?! And I think, "Where's Claire?" So I can say, "This is insane!" But I've learned a lot from her about parenting, about not being your kid's best friend and that's OK. I've learned about managing expectations with your family from playing a mother with older kids.
6) TB:
Is there any beauty trick you just cannot get the hang of?
JB:
Eyelash curling I cannot do. I'm sure it serves a purpose and most professionals will try and get in there with a curler, but I don't know what my problem is. I can't do it and I don't understand the purpose. I can't get into that.
7) TB:
Do you have any weird beauty habits?
JB:
Nothing weird, except I really love a washcloth. I have this huge drawer of them. I need a new one every time I wash my face. There's something about warm water and a washcloth that's the perfect amount of exfoliation for me. I know there are lots of instruments and things you can use, but that's still my all-time favorite.
more stories