Makeup
Sephora Yanks Kat Von D's Offensively Named Lipstick from Shelves
The tattoo artist's "Celebutard" lipstick has ruffled more than a few feathers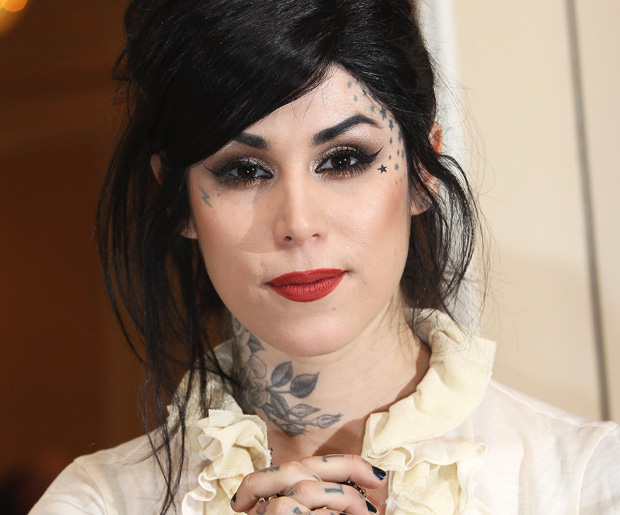 Kat Von D, she of "L.A. Ink," "Go Big or Go Home" and stealing Jessie James from Sandra Bullock fame, is in hot water with an angry mommy group.
Seems that banner ads from Von D's Sephora-exclusive makeup line, which includes her "Celebutard" lipstick, appeared on a website for kids with special needs.
READ: How to Wear Red Lipstick With Confidence
"I couldn't believe my eyes," Emily Norman, a mom whose daughter suffers with developmental delays and ADHD, told the local Atlanta NBC news affiliate.
"I could not believe that a successful company in 2013 would use such a derogatory and mocking name for their lipstick," Norman said of the "Painted Love Lipstick" line whose shades include racy names like "Backstage Bambi," "Hellbent," "Lolita" and, yes, "Celebutard."
Kathy Keely, the executive director of an ADHD organization concurs. "It's shocking that a company in this day and age would even consider such a demeaning name for a product," Keely said. "While this kind of language might not seem important, to people with developmental disabilities, labels and terms like this are very hurtful and damaging."
The brouhaha even got the attention of "Glee" actress, Lauren Potter, who has Down syndrome. Potter wasted no time in Tweeting, "Really @sephora? Celebutard? Not cool."
The offending cosmetic has been summarily pulled from shelves and Sephora has issued this statement: "It has come to our attention that the name of one shade of a lipstick we carry has caused offense to some of our clients and others. We are deeply sorry for that, and we have ceased sale of that shade both in our stores and online."
READ: 9 Best Lipsticks