Health & Beauty
How to Rock Outrageous Accessories from Bridal Fashion Week
How to Rock Outrageous Accessories from Bridal Fashion Week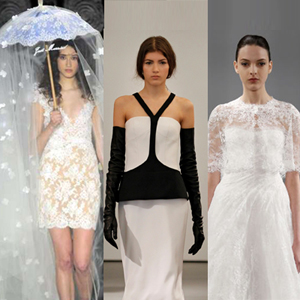 All good things must come to an end, and Spring 2014 Bridal Week is no exception. Whether you're planning your June wedding at the Plaza or just pinning away at 'Dream Wedding' boards, there was something for everyone to swoon over. To help condense all of the bridal beauty fun, we're focusing on one of our favorite categories: accessories.
What better than a crazy-pretty headband or revamped veil to spice up your safe bridal style? And while these accessories are a little over-the-top for your most of us, they're still great inspiration, and you can always try a more subtle twist on the trends.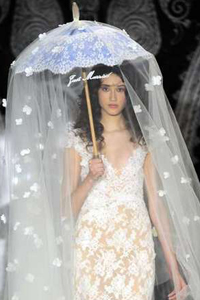 Reem Acra's Parasol Veils
We get it: veils are a wedding staple, but they're often stale and overdone. So, in an effort to make veils meet high fashion, Reem Acra draped floor length veils onto ultra feminine parasols for a delicate, quirky look. And while this avante garde idea may have some brides singing, it's not for everyone. If you're looking to incorporate a veil that isn't boring or overly eccentric, try fastening it to a piece of
bridal hair flair
.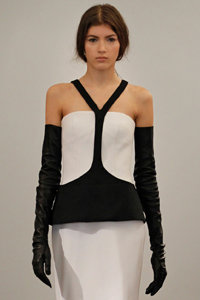 Vera Wang's Black Gloves
Vera Wang is synonymous with whimsical weddings. So when the staple of her show was full-length black leather gloves, we were all taken aback. The dark, edgy accessory proved that you don't have to be an all-white bride to be wedding chic. If you're wanting to add some bold black to your look without slipping on leather gloves, opt for some elegant onyx jewelry or a black sash on your dress.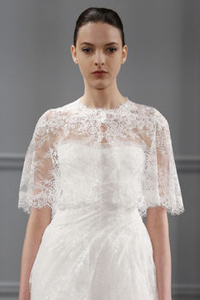 Monique Lhuillier's Wedding Capes
A trend we couldn't help but notice this spring was the more modest style. From long lace sleeves to high necklines, the conservative bride has become tres chic. To follow suit, Monique Lhuillier introduced dramatic wedding capes into her collection this season, ranging from short lace cover-ups to full-length capes. So if you're looking to cover up your shoulders, but you're not quite ready to embrace the cape, select a sheer shawl. It's romantic when paired with any wedding dress, and can be put on or removed without any hassle.
Images courtesy of Getty Images
more stories