Skin Care
Your Pre-Wedding Skin Dos (and Don'ts!)
Hollywood skin care guru Kate Somerville shares her top tips for achieving complexion perfection for your big day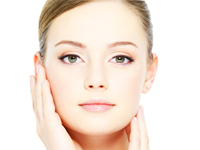 There are a few things that can really put a damper on a perfect wedding day: Stormy skies, a spilled glass of red wine on your gown, and a zit the size of a dime on your chin. We can't help you much with the first two (other than to suggest chardonnay over merlot), but we
can
solve that last one.
Clear, glowing skin is definitely possible for any bride, but it takes more than stopping in for a facial a few days before your wedding. To get the full rundown, we went to the queen of flawless skin: Kate Somerville. She's been getting brides and celebrities ready for major events for years and has seen it all. We asked her to break down what a bride should be doing -- and avoiding -- before the big day. Check out what she had to say:
When should you get a facial?
"You can go in for a facial a couple of days in advance, up to the day of," Somerville says. But be warned: "You should never have a new procedure or treatment, or begin using a new product, right before a big occasion. You don't know how your skin is going to react to it. A red, irritated face or even an outbreak of hives is not the look you're going for at your wedding."
What should a bride's skin care routine be the morning of?
"If you exfoliate and hydrate, you will see dramatically smoother, brighter, healthier-looking skin, and the new skin cells will instantly have the glow you want for your big day," says Somerville. Look for a product that "uses natural fruit enzymes, gentle acids, and microbeads to do the job. It clarifies and polishes skin to reveal a glowing, fresh-from-the-spa complexion." Again, make sure to try it a few times before your wedding, in case your skin is allergic to any of the ingredients.
Next step: hydration. "Apply a serum with sodium hyaluronate such as
Kate Somerville Quench
, $65, which has natural lipids that match the skin to put moisture back in the skin."
How should you deal with a breakout the night before or the morning of?
"If you have a pimple the day of -- don't pick it!" Somerville says. "It's better to wrap an ice cube in a thin cloth or paper towel and rest it on the blemish for a few minutes." The ice will reduce the inflammation and redness." Also, taking an aspirin, which has anti-inflammatory properties, will temporarily reduce the swelling."
There are products that help too. "My new
24 Hour Pimple Punisher
, $28, has two treatments in a dual-sided wand. The p.m. side works to dry the pimple while you sleep. The a.m. blemish clearing gel is designed especially to wear under makeup, which is what you need on the day of."
How can you fix a ruddy complexion?
"There are light and laser treatments that can calm redness. Intense Pulsed Light Therapy is a shortwave light that targets discolored or damaged surface layers. It also reduces pore size and refines the overall texture and tone of the skin," she says. "Omnilux LED technology eradicates the bacteria that cause the inflammation experienced during breakouts, reduces pore size, stabilizes sebum production, and promotes healthy cell growth."
Laser treatments include Laser Genesis, which stimulates collagen production and healthy cell growth, Somerville says. "Laser Genesis is great for gradually building volume and reducing redness, not to mention for textural issues such as 'orange peel' skin and fine lines. This is one of my personal favorite treatments." Just be sure not to try either appointment the week of your nuptials.
What's a common mistake you've seen brides make?
"Orange tans!" says Somerville. The best way to get rid of the wrong tint fast? "Exfoliating." She also suggests avoiding a last-minute spray tan and instead opting for a gradual self-tanner.