Health & beauty
What Michelle Obama's Willing to Do to Maintain Her FLOTUS-y Good Looks
The first lady isn't opposed to being proactive when it comes to anti-aging measures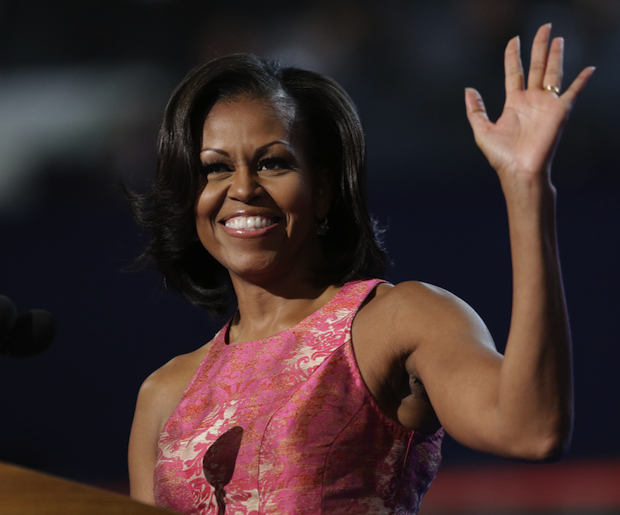 Maybe it's because she's seen her husband age a
whole lot
since becoming President six years ago or maybe it's because she's grown accustomed to looking a certain way. But, whatever the reason, Michelle Obama isn't above having a little somethin' somethin' done to help her maintain her looks -- a point she drives home, along with a few others, in a new interview with PEOPLE magazine.
"Women should have the freedom to do whatever they need to do to feel good about themselves," Mrs. Obama said. "Right now, I don't imagine that I would go that route, but I've also learned to never say never."
READ: Michelle Obama's Go-To Dress Designer to Launch Affordable Line
Of course, the First Lady has long lead a supremely healthy lifestyle, the benefits from which she'll reap for years to come. And, she'd like all American women to follow suit.
Whether it's getting regular checkups and annual gynecological exams/mammograms or working out (in an effort to increase flexibility, she's recently added yoga into the mix of her cardio and weights routine), Barack's better half is all about staying fit from the inside out. But, that's not surprising when you stop to remember that she launched the "Let's Move" program of healthy eating and exercise to help combat the growing epidemic of childhood obesity in this country.
Naturally, Mrs. Obama practices what she preaches, although as she's careful to point out, "I don't obsess about what I eat, but I do make sure that I'm eating vegetables and fruit. And, as everyone knows, I do exercise."
So what's on the docket as Michelle Obama enters her sixth decade on this planet? First up, a birthday bash at the White House on Saturday night (The President and his aides remain mum on the details, preferring to keep everything a surprise -- including whether or not there's any truth to the rumors that Beyoncé's set to perform), then as Obama, who says that her life is "ever evolving," notes, it's all about continuing to "[figure] out ways to have an impact, whether as a mother or as a professional or as a mentor to other kids."
READ: Michelle Obama's Inauguration Beauty Secrets
more stories