Makeup
Why Kat Von D Doesn't Give Makeup Tips
We got the inside scoop on the celebrity tattoo artist's newest makeup launches -- plus, she has some crazy-good Instagram tips
She may look as intimidating as the needles she uses to tattoo on shows like "Miami Ink" and "L.A. Ink," but Kat Von D made me feel comfortable immediately. "I'm warning you, I talk a lot," she said with a laugh.
Of course I quizzed her on the essentials -- like what's her trick for a killer Instagram pic? (With thousands of posts and over two million followers, if we can't draw like her, we can at least aspire to Insta like her, right?) "It's all about composition -- how it pops up on people's feed, what your eyes naturally go to, how you center things," she says adding, "[The] Sutro filter is my favorite."
As for which song she has on repeat, her answer may surprise you. "This is probably going to sound boring, but I love records and I'll usually get stuck on one for a long time because I like to memorize it," Von D says. "I've been listening to my favorite Beethoven song right now, and it's called
Sonata Pathetique
," she says, adding, "It's just insane to think that there's not one person who has come close to that type of composition. Beethoven was known for breaking strings because he was so aggressive; he was the first punk rocker."
"I told you I talk too much," Von D says once we
finally
dive into the newest additions to her makeup line, which launch at Sephora late July. "It's so cool to see this come to life." Watching her talk animatedly about her favorite new lipstick (a pale matte lilac called Coven) or one of her old favorites (
Everlasting Love Liquid Lipstick
), it's clear the line is very personal. She even named one of her new navy lipsticks Poe … after her cat.
And while her signature red lip and heavy black eyeliner are as precise as you would expect, don't ask her for tips on applying your own makeup. "I'm the worst at giving advice," she confesses. "I approach my makeup like I do my tattoo or drawing -- it's not necessarily the right way to do it. A good artist can make do with whatever they have -- you know, Michelangelo, if you took away his paint brush, he'd figure it out -- you just have tap into whatever inspires you."
See what else inspires Kat in her responses to the five questions we ask everyone, below.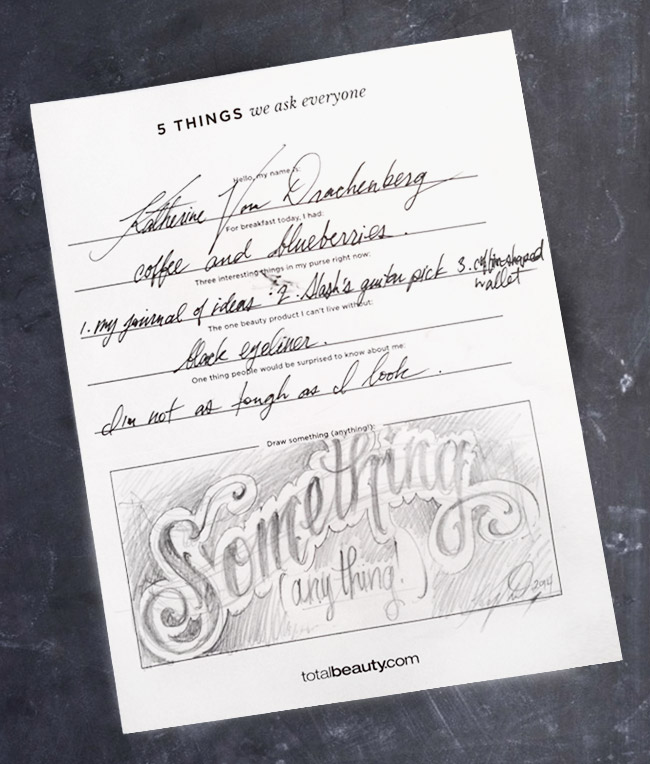 Hello, my name is:
Katherine Von Drachenberg
For breakfast today, I had:
Coffee and blueberries.
Three interesting things in my purse right now:
1. My journal of ideas 2. Slash's guitar pick 3. Coffin shaped wallet
The one beauty product I can't live without:
Black eyeliner.
One thing people would be surprised to know about me:
I'm not as tough as I look.