Hairstyles
Golden Globes Exclusive: "Tina Fey's Hair Is Like a Wig"
Celebrity hairstylist Richard Marin dishes on the co-host's trio of looks from the awards show
Ever wonder how a red carpet hairstyle is born? There's a lot to take into account -- the dress, the accessories, the trends ... not to mention the celebrity (and her hair).
Most stars make their red carpet rounds and have a few far and in-between camera shots during the ceremony (of them laughing, stumbling through an acceptance speech, or fake smiling when the competition wins, etc.). One hairstyle, multiple angles, done. But styling the
co-host
of an awards show (in this case, the most-watched Golden Globes in seven years) is a completely different story. Celebrity hairstylist Richard Marin had to create not just one but
three
hairstyles for Tina Fey's second stint as the Globes' MC alongside BFF Amy Poehler.
Luckily, Fey trusts her stylists. According to Marin, she rarely ever gives direction -- she has an idea of what she wants, then lets her stylist have at it. Marin says Fey's only request for the Globes (one we can all relate to): Gimme a style that will stay out of my face. For Marin, the rest was a no-brainer. Here, Marin shares his behind-the-scene work on Fey's hairstyle changes exclusively with TotalBeauty.com.
The Inspiration
According to Marin, every red carpet hairstyle always centers around the fashion. Fey had three dresses to wear for the evening, and Marin opted for three different styles to complement each gown. "She likes low-maintenance looks, which goes with her color and cut," says Marin. All that teasing, combing and product overload can be a nightmare, but luckily for Marin, Fey has a good head on her shoulders. "She has every hairdresser's dream hair," Marin says. "It's thick and wavy. It's like a wig. It straightens, it curls. Just use the right products and you can never fail."
The Styles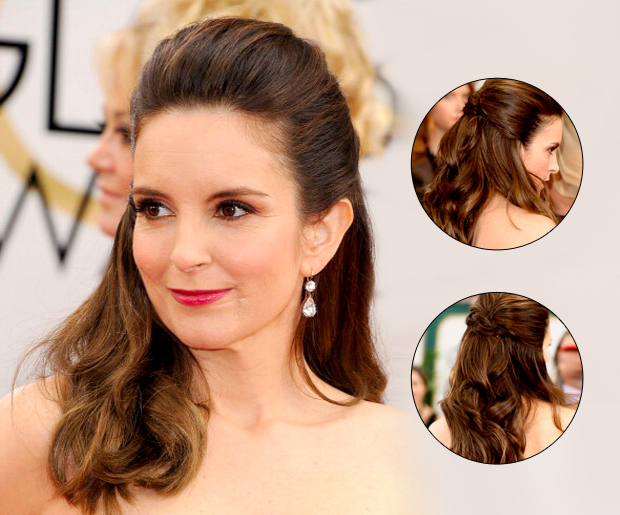 "We had two hours for hair and makeup," says Marin -- plenty of time to pull off the wavy half-up style. For this red-carpet look, Marin started with freshly washed hair, then spritzed with a blow dry spray ("it makes hair so shiny and full") before drying her hair with the
T-Studio Silk Ceramic Dryer
, $29.99. Using a straightening iron with curved ends, Marin bent the length of her hair from mid-shaft down through to the ends. Once all hair was curled, he took the top portion and created slight braid at the back of her crown to hold the look.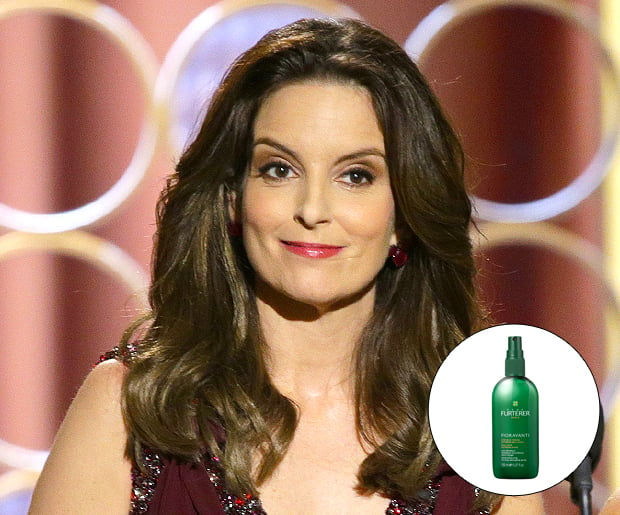 For the second look, Marin's time was cut down to 45 minutes and he says he only wanted to breathe some extra life into her already-styled hair. "Even though her hair was pinned and out of the way, I never wanted it to look like there was buildup from using so much product," Marin says. He shook out her half updo, sprayed it all over with the
Naturia Dry Shampoo
, focusing on the crown area to re-lift her hair again. Then Marin used a straightening iron to bend the roots up for extra lift and volume, shook her hair and let it fall naturally. Instead of loading up with hairspray, Marin used
Fioravanti Shine Enhancing No Rinse Detangling Spray
, $26, to finish.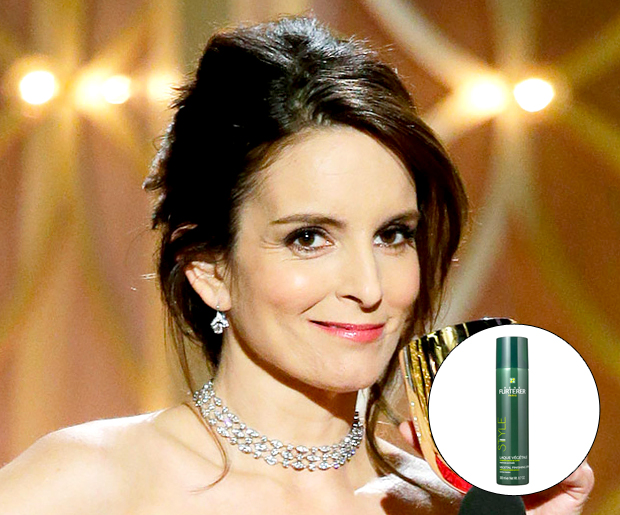 For the final look, however, Marin and his team only had 17 minutes to go from a down style to an updo. Marin wanted something polished. To get this look, he used a matte modeling paste -- "nothing shiny or greasy" -- on any ends that were frizzy because "it just gets rid of the flyaway look." Then he pulled her hair into a twist and secured it with bobby pins. For the loose, face-framing pieces, Marin used large barrel curling iron to bend the ends and finished with a set and spray of
Vegetal Finishing Spray
."At the 3-minute warning we were like, we did it! With three minutes to spare. I'm not kidding, there were like five people working on her, doing her makeup, putting her shoes on ... it was insane."