Hair care
We Tried It: The Hot New Keratin Hair Treatment
Can this kinder, formaldehyde-free hair treatment deliver straight, frizz-free hair for summer?
My hair is curly but fine. This makes me one of the lucky ones: I can blow it out quickly, and it holds any style. My messy curls morph into soft waves in about 15 minutes. It's pretty awesome.
My hair does not, however, respond well to humidity. The waves turn to limp frizz. And I can forget about air-drying -- it looks like a bad '80s perm. (Not awesome.)
So when I heard that Woody Michleb, the Creative Director for hair at Elizabeth Arden Red Door Spas, was introducing a new type of keratin treatment, I jumped at the chance to try it out. Even though I don't have truly unruly hair, I hoped it would keep my waves in check during the impending muggy summer.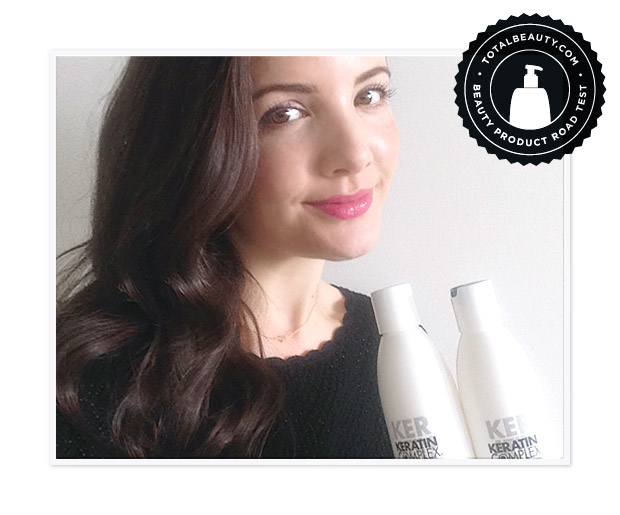 I met up with Michleb at the gorgeous new The Red Door salon and spa near Union Square in New York City, and he gave me the scoop on the Advanced Glycolic Smoothing Treatment. Unlike
keratin treatments
that contain formaldehyde, this one uses a form of glycolic acid to open up the hair follicle and infuse each strand with keratin. That was all I needed to hear -- I hopped in a chair.
After shampooing, Michleb towel-dried my hair and painted on the glycolic product section by section. It had a neutral smell, there were no fumes and I wasn't concerned about the safety of the ingredients -- glycolic acid has been used in skin care for decades. Michleb let it absorb for 30 minutes while I played with Elizabeth Arden's Custom Color Foundation machine (which is genius, BTW). After a quick rinse, a keratin mask was applied to my hair and left on for 10 minutes. Then, another rinse, and my hair was blown out and flat ironed to silky, straight perfection.
Michleb explained that I could wash my hair whenever I wanted, and that I didn't have to worry about putting it behind my ears or up in a ponytail. (If you've ever had a keratin treatment, you know how major that is.) He prescribed
Keratin Complex Shampoo
and
Keratin Complex Conditioner
for at-home maintenance, and said he expected the treatment to last two to three months, gradually washing out over time.
A couple days later when I finally washed my hair, I let it air-dry. To say I was thrilled with the results would be an understatement. I was giddy. I did a happy dance. Best. Hair. Ever. For the first time in my life, I had beachy waves -- and zero frizz -- without heat styling. Michleb estimated that the treatment would relax my curls about 80 percent, but I think it's more like 50 -- which is just the right amount for me since I like to wear my hair wavy. This treatment is definitely more about fighting frizz than relaxing curls, but you can still expect your spirals to be significantly looser.
If I want a polished look, I can rough dry it and wrap big sections around a curling iron. Instead of 15 minutes, it takes about eight. And rain and humidity has absolutely no effect on my style. You don't have to be lucky to have great hair -- you just have to get the Advanced Glycolic Smoothing Treatment.
Visit
keratincomplex.com
to find a salon near you.