Health
Fitness Blogger Told She's Not Fit For Shape
The magazine told her she needed to put a shirt on to appear on its website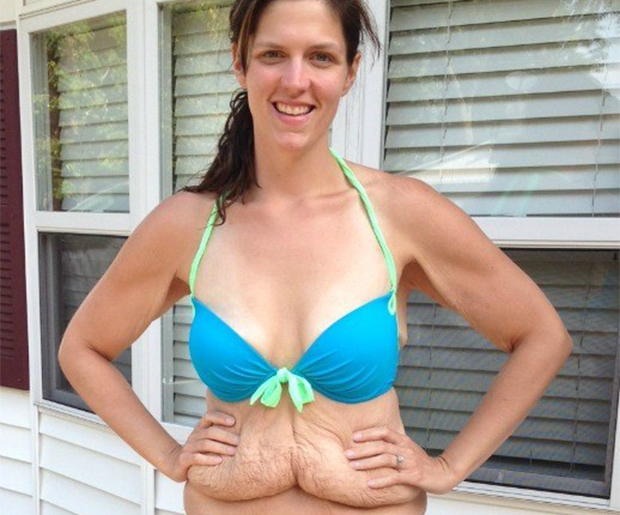 Brooke Birmingham is a fitness blogger who lost more than 170 pounds. She chronicled her journey on the blog Brooke: Not On a Diet. She lost the weight by exercising and sticking to a Weight Watchers meal plan, and she's proud of her results.
So when
Shape
magazine contacted her about appearing in one of its online Success Stories features, she was thrilled. She sent them a before photo, and an after pic featuring herself in a bikini. The problem? The bikini shot showed off the extra skin Birmingham had from losing so much weight.
When the writer saw the photo, she told Birmingham that the magazine's policy was to only include photos of people wearing shirts. But that simply wasn't true. There are several shots of Success Stories with bikini tops on, and the
Shape
site is rife with women in sports bras. Birmingham told them that if they wouldn't run her photo in a bikini top, she didn't want them running one at all.
"My body is real, not photoshopped or hidden because I feel like I should be ashamed," she wrote on her blog. "This is a body after losing 172 pounds, a body that has done amazing things, and looks AMAZING in a freaking bikini ... This is the type of body they should have featured because it can give people hope. Hope that they can lose weight healthfully and even if they don't end up with airbrushed abs of steel, they're gorgeous and shouldn't be ashamed of whatever imperfection they believe they have."
Since the story became public,
Shape
now says that the whole thing has been a misunderstanding. "This is a result of a misunderstanding with a freelance writer. This does not represent Shape's editorial values and the comments made about
Shape's
'editorial policy' are absolutely untrue," said a spokesperson. "
Shape
prides itself on empowering and celebrating women like Brooke, and any indication that we would not run the piece with the photo provided was wrong, as we would have been proud to share her inspirational story."
But Birmingham still declines to work with the mag. And we don't really blame her. [
The Frisky
]