Fashion
5 Fall Colors Anyone Can Wear
Switch out your neutrals for these trending colors that flatter everyone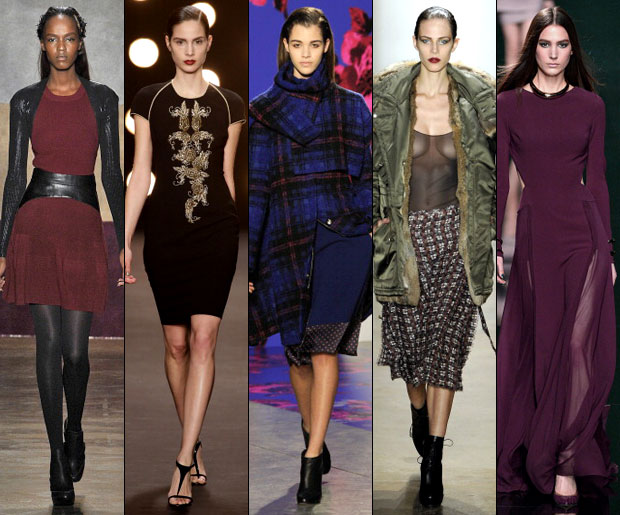 Among the blacks, grays and camels on fall runways were some super-memorable, powerful statements of color. Here are the top five colors trending for fall and simple ways
anyone
can incorporate them into her wardrobe and beauty looks.
Oxblood Red
Go All In: This shade is all over fall designs, like Ohne Titel's oxblood knit sweaters and dresses. We think it also makes the perfect statement color on a leather moto jacket.
Wear Just a Splash: We never get tired of seeing burgundy on lips, like the matte shade worn at Rebecca Minkoff. It also looked surprisingly chic worn on the lids on the models at Burberry Prorsum.
Gold
Go All In: Take a page from the book of Naeem Khan, who added gold embroidery to his black and white dresses, making them anything but simple. A gold lamé gown might not be practical work-wear, but a gold toned or silk blouse is an office-appropriate way of incorporating the color into your wardrobe.
Wear Just a Splash: Metallic fabrics can be a little intimidating to wear. But you can easily get in on the trend with gold studded bags, oversize gold necklaces or midi-rings. Also try a simple gold manicure like the one seen on the runway at Mara Hoffman, or make a French mani more modern with gold tips, like the models at Suno wore.
Deep Blue
Go All In: Midnight blue sweaters and fitted pants could be seen all over fall runway shows. Deep blue looks impossibly chic with your black pants and white blouses, and it instantly winter-izes those neon bright fuchsia and pastel pink tops you're still holding onto from the summer. For a lighter touch, try royal blue plaid like the models at Thakoon wore.
Wear Just a Splash: Try replacing your black eyeliner with a subtle line of navy, or go for a bold cat eye complete with blue shadow for our top beauty look to try this season.
Eggplant
Go All In: Do a head-to-toe look with fitted pants and an oversize sweater or a dress like the one shown at Elie Saab's fall show.
Wear Just a Splash: If you're going to go for neutrals with a splash of purple, try accessorizing with a matching scarf and glove combo, or go for aubergine nails.
Emerald Green
Go All In: Perhaps our favorite shade to try this fall, emerald green works just as well on pale, cool skin tones as it does on deeper complexions. Work it into your wardrobe with a bright blouse, heavy sweater or a full-length coat, like the gorgeous belted one at Altuzzara.
Wear Just a Splash: Emerald is eye-catching on a clutch, and olive-y green makes a pretty smoky eye look.