Health
This Edible Water Bottle Could Help Prevent A Bunch of Pending Environmental Disasters
Might take some time getting used to drinking from a blob, but when you consider the alternatives ...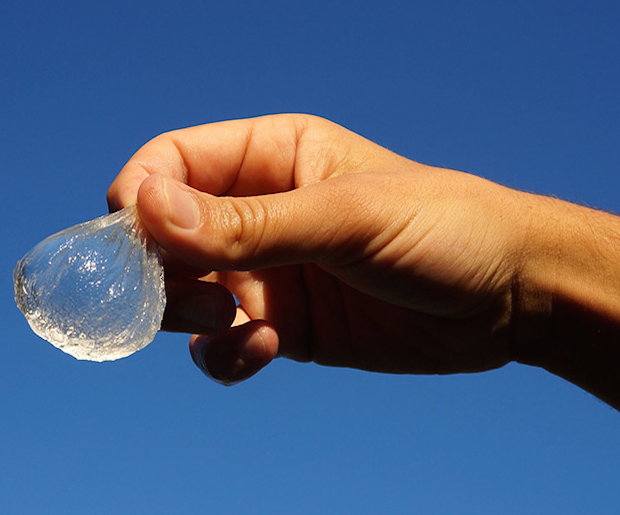 It may look like a (small) breast implant but a new-fangled water bottle called Ooho is poised to make an even bigger impact on the world than fake boobs ever did.
READ: 15 Minute Recipes that are Good for Your Skin
The brainchild of three London-based industrial-designer wannabes, Ooho, fashioned from an edible algae membrane, may seem an unlikely eco-hero but given its ability to hold water -- and biodegrade/be eaten -- may be just the savior the our plastic-addicted planet so desperately needs.
The concept? Replace the
60 million plastic water bottles we throw away every day
(in America alone) with this blobby looking bubble.
Created using "spherification" (a fancy gastronomical cooking procedure typically employed to recreate the look of caviar or gnocchi) to form brown algae and calcium chloride into blobs capable of containing liquids, Ooho takes the concept of natural and edible packaging from fantasy to reality.
READ: Is Drinking 8 Glasses of Water Really That Important?
Having just won the prestigious Lexus Design Award, a competition that gives young inventors/innovators an opportunity to showcase their works and receive feedback from pioneers in their given fields, Ooho is an inexpensive, (it only costs two cents to make one pouch) environmentally friendly alternative to the dreaded plastic bottles that overflow our landfills with no end in sight.
As one who loses way too much sleep over the condition of this, our one and only planet, I say "sign me up."