Hairstyles
Celebrity Bridal Hair Inspiration
Searching for the perfect 'do for your "I Dos?" Check out our favorite A-list hairstyles straight from the red carpet
Up, down, braids, twists -- there are a million options when it comes to your bridal hairstyle. Luckily, visualizing your choice is a cinch thanks to Hollywood. Celebrities are attending events almost every day of the year, which means one thing: endless examples of amazing hairstyles.
We know you may not have time to flip through galleries of pictures with all that planning you've got to do, so we did it for you. From a princess-worthy braided 'do to a half-up, half-down style, we rounded up the most stunning hairstyles from recent red carpet events.
All you have to do is print out the picture (or pictures!) you like and take it into your hairdresser. Now you can officially consider hair one less thing to worry about before you big day.
Emma Stone's simple twist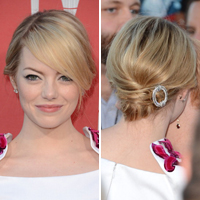 Updos don't have to be complicated to be pretty. Emma Stone wore a simple yet sweet twisted knot. For a bit of loose texture the front strands were side-swept across her forehead. To play up the back, an elegant crystal pin was added for a more polished effect.
Sarah Michelle Gellar's undone French braid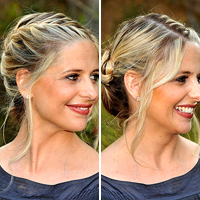 If you're still totally obsessed with the braid trend, here's a fresh take. Sarah Michelle Gellar modeled a classic French braid style that was woven diagonally across her head and tied into a neat knot on the other side. For a more bohemian vibe, a few face-framing strands were left loose.
Jessica Chastain's half-up, half-down 'do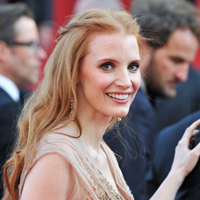 An easy way to keep your hair loose but still out of your face is a half-up, half-down style. Jessica Chastain had two sections on each side of her part twisted back and pinned at her crown. The rest of her hair hung long in beachy waves. Bridal bonus: The style also creates the perfect base for a floral wreath, tiara, or veil.
Kate Middleton's low braided bun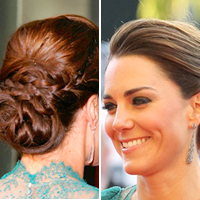 The award for most elegant updo of 2012 definitely goes to Kate Middleton. In May the Duchess stepped out with a beautiful braided bun that had just the right mix of texture and polish. The versatile style can translate to black tie nuptials or casual country affair.