Hairstyles
Bridal Headpiece Inspiration
The biggest trend in bridal accessories this season? Gorgeous headpieces. From floral to diamond, check out the most popular styles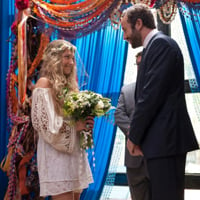 Did you see the season finale of "Girls" last Sunday? If you missed it, there was some serious bridal inspiration, including one awesome floral headpiece (check out a screen shot of it, left).
Jemima Kirke's character, Jessa, isn't the only recent bride who opted for a headpiece. Two weekends ago, Camilla Alves exchanged 'I Dos' with now-husband Matthew McConaughey wearing a diamond strand draped in front of her veil. And who could forget Kim Kardashian's bejeweled forehead accessory at her $10 million nuptials?
It seems bridal headgear of the non-tiara variety is the newest trend, and I for one couldn't be more excited. The piece can be paired with almost any hairstyle -- both up and down 'dos. Plus, there are tons of styles, from classic bohemian wreaths to sweet embellished lace headbands. Not sure which one fits your wedding theme? I've rounded up the most fabulous trends from Pinterest -- so you can decide if the look is right for you.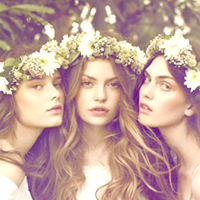 Floral:
A classic romantic wedding accessory, floral headpieces were extremely popular during Jane Austen's era (and really, is there a more romantic period?). The bohemian wreath can be created with flowers, twigs, and even berries. If you don't want to wear a veil this accessory can be a great alternative.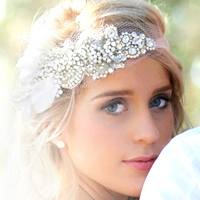 Embellished fabric:
Ready for an ultra feminine headpiece? Try donning a lace or tulle-embroidered headband with an elegant design of rhinestones and beads. The lovely accessory adds just a dash of subtle sparkle.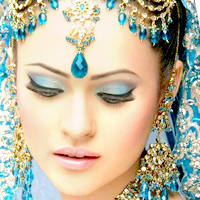 Traditional Indian Headpiece:
The jeweled bridal headpiece has been featured in traditional Indian weddings for centuries. An elaborate piece of jewelry is pinned into the hair, often draped across the forehead, and paired with a matching set of earrings or a matching statement necklace.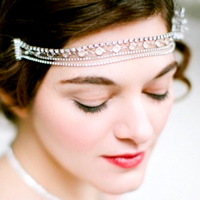 Diamond strands:
Many brides (including Kardashian and Alves) are attaching a string of diamonds, rhinestones, or crystals to the front of their veil. The effect has a modernized tiara vibe without being too princess-y or over-the-top. I mean, who doesn't love some extra bling?