Hairstyles
The Best Bridal Movie Looks
Need a little inspiration for your wedding-day hair and makeup? Look no further than your favorite chick flick
When it comes to wedding hair and makeup, movie brides always look incredible. (It's amazing what teams of hair, makeup, and wardrobe people can do, right?) Though you may not have a Hollywood budget or team available for yourself, that doesn't mean you have to look sub-par on your wedding day. As a professional hair and makeup artist, I've done tons of weddings and I can promise -- with enough practice -- you may not even need someone like me to do this for you.
The other key element you need: inspiration, like, perhaps, some of my favorite movie-bride wedding looks. Take one (or all) for a test run to inspire you on your own special day -- they can pretty much be worn with any dress style so don't get distracted if your dress doesn't look exactly like the star's.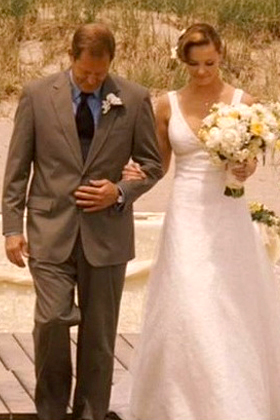 No. 1: "27 Dresses"
Hair:
Blow dry your hair smooth and straight. Create a set (so the style will last all night) by using a one-inch curling iron to curl two-inch sections of hair under and away from your face. Secure these barrel curls to your head with bobby or roller pins and repeat until all of your hair is up. Allow hair to cool completely (the longer the better -- aim for at least one hour). Now take all the pins out and use a boar-bristle paddle brush to brush through all of your hair from roots to tips -- it should look like one smooth sheet with soft waves (think Rita Hayworth). Create a deep side part and allow short front layers to hang free. Then sweep the rest of your hair into a bun opposite the part, just below your ear. Pin the bun to your head (the waves should be smooth but can be slightly imperfect). Spray with flexible-hold hairspray (I'm loving
Osis Elastic Flexible Hold Hairspray
, $9.99) and adorn with a flower or brooch just above the base of your bun.
Makeup:
First groom your brows so they are perfectly shaped. Apply a cream brown or black liner (I love the
Maybelline New York Eye Studio Lasting Drama Gel Eyeliners
, $9.99) along your top lashlines in a thin, but slightly lifted, cat-eyed shape. For extra lift, apply half strip false lashes from mid lids to outer corners (
Ardell Accent Lashes #301
, $3.49). Swipe your lashes with waterproof mascara. Keep your cheeks and lips in the same pale, rosy pink tone. Stashing a two-in-one product will allow you extra room in your small clutch (
Stila Convertible Color in Rose
, $22, is a beautiful tone).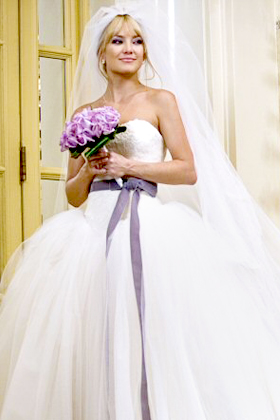 No. 2: "Bride Wars"
Hair:
Apply a smoothing cream (like
Tresemme Smooth & Silky Anti-Frizz Secret Creme
, $5.99) to damp hair and blow dry your hair smooth and straight. While your hair is still warm, set a mohawk section of your hair in large Velcro rollers (think the top, and the middle section of your hair from front to back, including bangs if you have them). The rollers should roll under and away from your face. Allow the rollers to set for about 30 minutes for lift. Once the hair has cooled completely, spray your palms with a flexible hold hairspray and remove the rollers one by one from the section furthest back from the front until you reach your bang section, running your sprayed palms down the hair shaft to smooth flyaways. Allow the front pieces to fall forward and twist and manipulate them as needed until they fall how you want. Polish the front section with a large curling iron if necessary. Tease your roots at your crown and pin your hair back into a low chignon at the nape of your neck. The bun should be full and not too tight. Spray all over.
Makeup:
Have fun with an accent color on your eyes! Use a fluffy eyeshadow brush to apply a long-wear cream shadow (
Estee Lauder Double Wear Stay-in-Place Cream Shadow in Smokey Plum
, $18.50, won't budge) around your lashlines and up to your creases. Hint: When your eyes are open, make sure the haze extends about 1/8-inch above your upper lashlines so that in pictures your color won't disappear. A full strip of lashes (try
Ardell 120 Demi Black
, $4) along your upper lashlines will enhance the look. Pencil your inner rims with black liner. Dust your cheeks with a natural-looking matte bronzer for a little definition. And finally, swipe your lips with baby pink lipstick (try
Revlon Color Burst Lipstick in Baby Pink
, $7.49).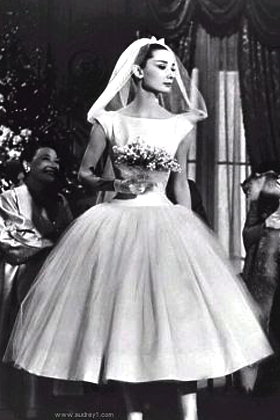 No. 3: "Funny Face"
Hair:
This look is perfect for a fancy veil, because your hair will be very simplistic, showing off intricate details elsewhere. Starting with towel-dried hair, apply a strong-hold gel from roots to ends (
Aveda Flax Seed Aloe Gel
, $17, will do the trick). Now, take a boar-bristle brush and tightly pull all of your hair into a ponytail at the center back of your head and secure with an elastic. Brush through the tail and if you see any flyaway pieces, add a pea-sized blob of gel to the tail as you wind it around into a very tight, ballerina style bun. Secure to your head with bobby pins. Spray all over (especially your hairline) with a strong-hold, pump hairspray -- these are typically wetter and will yield that sheen you are looking for. (I love
Paul Mitchell Freeze and Shine Super Spray
, $22.50.)
Makeup:
The key to this classic makeup look is a strong brow. Groom your brows so they are perfectly shaped. Then, since brow hairs tend to glisten naturally, use a shimmery brow pencil to fill in between your natural hairs (The
Sorme Brow Pencils
, $7.19, are long-lasting and come in the most natural colors). Use a brow brush to further comb the color through your hair and determine whether you want more shape. If so, you may opt to fill further with a soft brow powder to give them a little bit more weight. Contour your lids with a matte taupe shadow just above your creases and define your upper lashline with a black liquid liner (
L'Oreal Lineur Intense Felt Tip Liquid Eyeliner in Liquid Mica
, $8.49, is easy to use). Apply mascara. Use a pale pink powder blush to highlight the apples of your cheeks and, since this image is black and white, choose any lip color you love! I'd love to imagine Audrey wearing a classic matte red here, but it's entirely up to you (if you agree with me, try (
Nars Velvet Matte Lip Pencil in Red Square
, $24).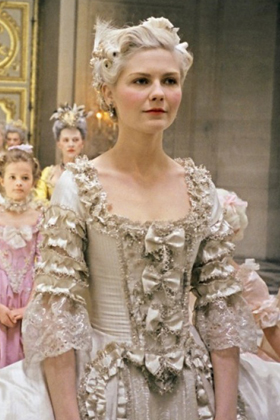 No. 4: "Marie Antoinette"
Hair:
Follow the instructions for the set in the "27 Dresses" hair direction, but use a one-inch curling iron on one-inch sections of hair. Once the hair has cooled, remove the pins, shake your hair loose, and spray your roots all over with a dry shampoo to get extra matte-looking texture -- you may opt for a colored hair powder depending on the shade of your natural hair (try
Psssssst! Instant Dry Shampoo
, $5.99, if you want no color or
Bumble and Bumble Hair Powder
, $35, which comes in a variety of hair color shades). Use a boar-bristle brush to smooth the front section of your hair at your hairline. Then haphazardly pin your curls to your head in any fashion you see fit until all your hair is up -- this style is definitely open for interpretation! Spray all over with hairspray and adorn with whatever accessory fits your style.
Makeup:
This is probably my favorite makeup of the group, even if it
is
a bit dramatic. Gently define your brows, and go natural on your lashlines. Now, create a wide, bright flush on the apples of your cheeks with whatever color you deem your favorite. I love the daring magenta Kirsten is sporting (if you agree, try
MAC Powder Blush in Magenta
, $20). Just smile big, then, using a really fluffy blush or powder brush, create your shape using circular motions, with the intensity of the color in the center of your cheeks. Use a dry, clean powder brush to buff away any hard edges. Apply a sheer lip stain to dry (but recently moisturized) lips. (
Benetint Pocket Pal
, $20, is the perfect option to toss in your clutch later.)
No. 5: "The Graduate"
Hair:
Follow the instructions for the "Bride Wars" description. But this time, use Velcro rollers all over instead of just the Mohawk section. Allow to set for about 30 minutes. Remove the rollers. Spray two-inch sections of hair with a flexible-hold hairspray, then use a two-inch curling iron to curl your hair from mid-strands to tips. Leave the curls to cool completely. Then shake your fingers through your hair to loosen them up. Now split your hair from ear-to-ear and tease the roots at your crown. Secure your hair half up with bobby pins and allow any front pieces to fall free.
Makeup:
Strengthen your lashlines by rimming your waterlines with a black brown powder pencil -- powder will look a little smokier and less linear (try
Elizabeth Arden Smoky Eyes Powder Pencil in Espresso
, $18). Squeeze your eyes tightly and use a clean, dry shadow brush to soften any crooked run off. You want the lash roots to look extremely full and slightly imperfect. Coat your lashes with several layers of waterproof mascara. Dust your cheeks with a peachy-brown blush (
Bobbi Brown Blush in Tawny
, $24, is a lovely shade to try). Finally, swipe a peachy nude lipstick or balm (I love the
Maybelline Baby Lips in Peach Kiss
, $2.99, the perfect tone to hydrate lips that won't leave any marks behind on your future hubby).