Discussion
Eyeliner that doesn't disappear?
My eyeliner is really nice, and it always looks really good when I put it on. (I only put it on the light pink part of my eyes, don't know what that is called, but the top and bottem of the inner eyelid if that makes sense) When I am feeling ambitious sometimes I put it on my upper eyelid for a cat eye look.
But after an hour or so my eye liner seems to fade extremely bad! Am I putting it on wrong? Or do I just always choose cheap eyeliner? It is still on my eyes... Just not as "black" looking as it was when I first put it on. Help! Thanks in advance :)

16 Replies

TracyTB
allstar
3 years, 1 month ago
Re: Eyeliner that doesn't disappear?
Hi Pink Tyrant
I use to have this problem too, but now I have a method to ensure that this never happens.
First I always use a primer or a concealer on my eye lids to add a base for the eyeliner to stay (I like the way it looks with concealer best).
I've used cheap and expensive eye liners and have had positive results from both. My drugstore favorite is from the organic wear line of physicans forumla in black. It goes on easily and stays on strong through out most of the day. It will smudge though if I accidently touch my eye.
My Sephora favorite is from Josie Maran in charcoal. It's so easy to apply and I haven't had any issues with smudges and I wear it all day.
Good luck! I'm sure you'll find a solution that works.
Re: Eyeliner that doesn't disappear?
My personal test of my favorite pencils UD 24/7, waterline challenge.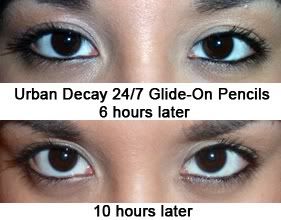 Try Benefit BADgal waterproof pencil eyeliner
It's really hard to get eyeliner to stay on the waterline because that waterline, the inner "light pink" rim, produces natural oils that aid in lubricating the eyes. I've tried applying to that area, until I found that unfortunately doing so has caused me to have eye infections :( Just thought I'd mention that since it isn't recommended that you apply to that area. Besides that, if you don't have any problems with it, I've had good experiences with Benefit's BADgal waterproof liner. It works very well, in general at least, when applying to the waterline in my experience. If you give it a try let me know what you think! If you're not sure about spending the money, why don't you go over to Sephora, test it out and walk around with it for the day and see how it goes. Hope this helps!

Re: Eyeliner that doesn't disappear?
I have the same issue as you! I am not a big fan of UD 24/7 because they just slide off my waterline. MUFE aqua eyes in pencil and gel don't do the trick either. I haven't tried Smashbox's jet liner; but I heard it's supposed to be "made for your waterline".
The one that has worked the most was Tarte's EmhphasEYES clay liner. But i think they reformulated or something because it doesn't stay on my waterline like it used to. If you haven't tried it, I recommend giving it a shot.
RE: Eyeliner that doesn't disappear?
I believe the inner rim of your eye is commonly called the "waterline". Is your current liner waterproof? If not, I recommend you try one that is. I found one by searching for waterproof liner on Sephora.com...there's quite a few to choose from and you can see which ones have the best reviews.
Re: Eyeliner that doesn't disappear?
I like Urban Decan 24/7 liners. They're creamy and easy to apply. I use those for in-lining and they do a good job.

Re: Eyeliner that doesn't disappear?
I've never lined my inner rims since I wear contacts. I line my upper outer rims. My favorite eyeliners include Revlon Colorstay and Smashbox Jet Set.

aly7
elite
3 years, 1 month ago
Going for the drugstore liners,here............
I like Jordana Fabuliner, LOreal Microliner, Jordana Easyliner, Maybelline Unstoppable, Wet n Wild Megalast, and Physicians Amethyst, Green,and Illuminating Black.
RE: Eyeliner that doesn't disappear?
I'm with volta on loving Urban Decay's 24/7 pencils...I'm addicated. But I have had better luck with Smashbox Jet Set Waterproof Liner on my waterline. Everything else ends up in my tear duct.

DevranM
insider
3 years, 1 month ago
Re: Eyeliner that doesn't disappear?
I'd recommend Maybelline Eye Studio Lasting Drama Gel Eyeliner.... My eyeliner used to rub off all the time, but this one stays on ALL day! I absolutely love it :) It works well and is affordable!