Discussion

HELP with my hair
I need help to find reasonable hair products that will work with the kind of hair that I have.
It's frizzy, curly with some straightness, incredibly thick and with extreme volume. I need help. When I braid, it is able to bring down the volume and when relaxed, the volume, too, goes down a lot. I have a lot of hair. I use some Wen products (the ginger conditioner). I also use Castor oil. I have dandruff because my scalp gets extremely dry and because it takes me a while to wash it, I only wash twice a week because in a way, I want my hair to have its own natural oils do something nice to it.
My diet isn't healthy nor too bad. I don't exercise, but I don't eat fast food (only every now and then).
I used to have straight hair when I was 6 and then it slowly went wavy and thick and then went frizzy.
I have relaxed my hair twice; the first time actually brought down the volume a lot, but the second time didn't.
I have bleached some of it and I saw that temporary dye actually made the bleach part really, shockingly soft.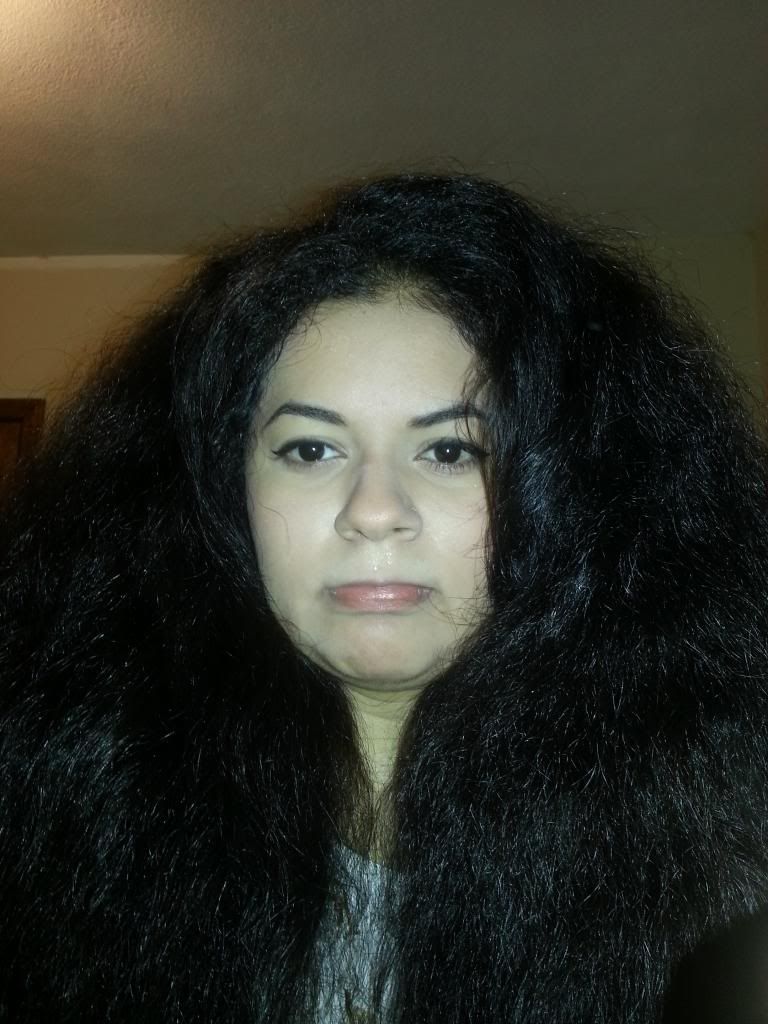 4 Replies

Kamel
newbie
5 months, 2 weeks ago
Re: HELP with my hair
As far as I'm concerned, I always use natural products for my hair, coconut oil and avocado is perfect and well-known as a great hair straight treatment, olive oil too but the most effective one is avocado and coconut, since I'm using these products I do not have hair problems, they are becoming straight and seemed to be healthier than before, in that way I can save money for anything else too. Try with this method!

ritukt
newbie
5 months, 2 weeks ago
Re: HELP with my hair
Wow. You have beautiful skin and eyes. My hair looks like yours on the days I wash it - very wavy and voluminous. I started using Organix Moroccan Argan Oil Shampoo and Conditioner 3 months ago and have seen a lot of difference in the quality of my hair. I also use Organix Moroccan Argan Oil penetrating Oil after air-drying my hair. This combination seems to work for me, it may work for you as well. I apply Olive Oil (4 tsp) mixed with 2 Eggs on my hair twice a month before washing and that also helps in nourishing my hair. I hope this was helpful.

Re: HELP with my hair
wow that is alot of hair. on the bright side its thick and shiny so you dont ever have to worry about hair loss. Usually people with this kind of hair have it genetically and more or less relaxing or keratine treatments are the only things that really make a noticeable difference. But you so this isn't your natural hair so maybe some changes can help. Sticking to natural non-sulphate non-paraben products is definitely good. However, I would suggest changing from castor oil to coconut or argan or virgin olive oil. You could make your own mixture or used a pre-mixed essential oil bottle. They have more nutrients and will help with the frizz and dryness too. Try a deep hot oil treatment once in a while... i know they are a pain but they really help with frizz and even scalp issues. Dont use dandruff shampoos if you can avoid since they are extremely drying. I thought I had dandruff too till I went all natural and realized it was the chemicals causing me scalp issues. The dandruff has totally gone now. Another thing to consider is that the place you live may be humid, which can cause major frizziness in curly hair so you may need some leave-in or hair serum that would help. Also change your cotton pillow cases to satin or silk since cotton will soak the moisture out of your hair while you sleep. Lastly, I would really suggest getting a layered hair cut to control the volume without loosing your length. Chop of any part of the ends that have dried out too. I'm sorry I couldn't provide any radical solutions but I hope some of my suggestions help.

Re: HELP with my hair
Hey you can use natural ingredients to serve your hair with natural oils. Use Egg and aslo use that shampoo which contains zinc pca because it is a natural mineral