Beauty secrets that keep our celebs young
Ahh celebs. Gotta love 'em. Can't do without 'em.
Surely I'm not the only one who balks at their flawless, wrinkle-free, crow-feet free skin and weeps bitter tears? Certainly not.
So just yesterday I was catching up on Modern Family and ooh-ing and aah-ing over Sofia Vergara when it struck me! What are these beauty secrets the celebs keep safely protected? I'm not talking about going under the knife, you guys; but actual beauty secrets- stuff that keeps our celebs looking younger than ever. Here's what I found. You're welcome.
Sofia Vergara

Image Courtsey: xfinity.comcast.net
I had to, obviously, start with Sofia Vergara. Not because I'm obsessed with her or anything.
Lies. I totally am.
But Sofia Vergara! Ask Sofia Vergara what her beauty must-have is and she'll say she carries her own little containers of crème de la Mer everywhere she goes. The iconic legendary cream claims to completely transform the look and feel of your skin and if this is beauty gem that keeps Sofia Vergara looking vibrant and youthful at 41, well then, I've got some serious shopping to do.
Halle Berry
Image Courtsey: eonline.com
"That woman doesn't age!" is what I shout at my television screen almost every time Halle Berry comes on and that is only because that woman doesn't age! I mean, seriously. At 47, she's as fit and radiant as can be. What's going on with that? Berry's low-carb, lean protein diet coupled with a work-out routine that includes cardio with cross-training keeps her stunning body in shape. One of her beauty secrets was particularly fascinating to me- she uses ground coffee as an exfoliator. I've also read that coffee grounds could also help reduce cellulite. Whodda thunk it!?
Salma Hayek
Image Courtsey: imgc.allpostersimages.com
I'm a heterosexual woman who is undeniably in love with Salma Hayek because hello, skin perfection? Now I know that Hayek is a fan of natural ingredients and I'm a big fan of her Nuance line of skincare and cosmetics, but I wanted to dig a little deeper. What makes her glow the way it does at 47? The trick is to keep it simple. Washing- cleaning it really well at night- before bedtime every night followed by not washing it the following morning works wonders. Why shouldn't you wash your face in the morning? Because your skin works at rebuilding some of its oils and balances the PH at night. Washing it in the morning will wash away these essential oils.
Reese Witherspoon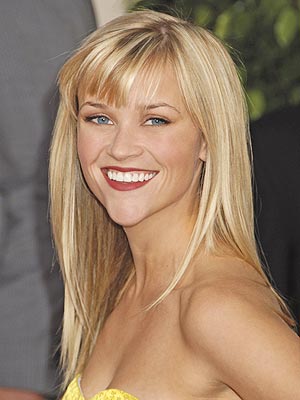 Image Courtsey: img2.timeinc.net
I think I watched and re-watched Legally Blonde a hundred times over back when I was a student at Marinello. Elle Woods had enviable style, I'll give you that; and so does Reese Witherspoon. Witherspoon is just as adorable and beautiful as she was back then and it makes you wonder if it's the small things that make all the difference. Witherspoon's favorite moisturizer- Avon Solutions Hydra-Radiance Cream SPF 15, not only protects her against sun damage, but as the name suggests- keeps her skin looking radiant without going through too many hassles.
Kate Winslet
Image Courtsey: popcultureblog.dallasnews.com
Kate Winslet is just one of those actresses who you simply know is going to age gracefully. We see her flaunting her new lean figure, but truth be told, I always thought she was one of the most beautiful women to ever have graced the silver screen. How she does it? By sticking to less make-up. Her go-to make-up is generous coats of mascara with deep red lipstick and everything else is just left clean. The 38 year old actress also uses Nivea to moisturize her skin every night.
I've always felt that there's nothing a good night of rest, exercise and a balanced diet can't help but hey, it doesn't hurt to get a little help from the outside every once in a while, does it?
< Previous Post
Next Post >
Report blog post as inappropriate