Product Review: Meaningful Beauty Anti-Aging Night Cream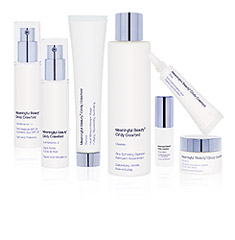 For Mother's Day, my mother-in-law gave me a Meaninful Beauty kit. In case you don't watch as many infomercials as I do, Meaningful Beauty is a skincare company that Cindy Crawford and her Parisian dermatologist Dr. Jean-Louis Sebagh founded. Dr. Sebagh is an anti-aging specialist that focuses on repairing the skin to prevent aging.
Now if you know me, then you know I am a skincare snob. I'm a product junkie to the core. I love them all but I will rarely order something off TV. But the brand landscape is changing. There are brands like Napoleon Perdis and Pixi sold in Target. Josie Maran, a favorite brand of mine, is sold on QVC. So when my mother-in-law gave me the kit, I was excited. It was something I probably never would have bought for myself but always wanted to try.
So far I have only tried the anti-aging night cream and I have to admit, the texture and the weight of the cream made me think I would hate it. it's heavy and at first, it goes on heavy. But in minutes, it sinks into your skin leaving no oily residue. It's completely absorbed. Now I don't have many wrinkles or spots so I can't tell you if it's made a dramatic difference in terms of those things, but I can tell you that my skin feels softer in the morning. It feels more moisturized and plump.
I can't wait to try the rest of the regimen. Maybe I'll look like a supermodel after all? Yeah okay, I didn't think so.
< Previous Post
Next Post >
Report blog post as inappropriate