The Last Makeup Bag You'll Ever Buy
{by} Sasha | Crows' Feet, Cupcakes, and Cellulite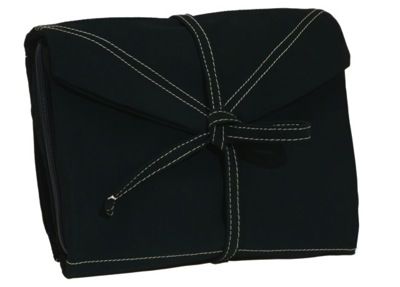 There are things a gal expects to never find a perfect version of — from jeans that fit like a glove to the perfect man (insert dramatic sigh here) to an all-encompassing makeup organizer. Alas these things are about as elusive as unicorns, leprechauns, and husbands who beg to do laundry. While the first two might continue to be tough to find, I'm about to blow your beauty-loving world, makeup mavens, as I've discovered the makeup bag of all makeup bags.
In times past, if you found a makeup organizer that was big enough for all your makeup it was typically hard-sided (making it awkward to travel with) and, well, quite unsightly (read: ugly). And if you were lucky enough to find a soft-sided makeup bag that was attractive inevitably it was too small or didn't have enough compartments. Well are you sitting down for this? Allow me turn you on to the Hold Me Bag – a makeup organizer that has finally changed the inefficient, bulky, never-quite-right, looks-like-grandma's makeup bag, once and for all.
The beauty 411: First, banish everything you know about typical makeup bags (there's no Velcro, metal clasps, or hard-sided plastic on this lush organizer). The inspiration for this killer organizer? The creators of the Hold Me Bag (cleverly named, as it can "hold" a boatload of makeup) got fed up with not being able to find a worthy makeup organizer and decided to fill the void. (Insert cheers here!) So their quest to create the perfect bag began and the end product was a makeup organizer that can hold (and organize) your cosmetics, brushes, tools – all while being able to "see" them. (This last one is a biggie as most of us are visual and if we can't see what we have we forget we have it. No man, err, eyeliner left behind!) The finished creation? A smart... Read on...
For the complete article and additional product images/swatches, go to The Last Makeup Bag You'll Ever Buy -- and don't forget to follow this 'lil beauty blog via Twitter, Facebook, and newsletter!
< Previous Post
Next Post >
Report blog post as inappropriate