Fashion Friday - Wedding Gowns
Today I thought I'd write about wedding gowns. I was looking at some famous gowns and thought it is neat to see how the styles have changed through the years. We've probably seen all of these pictures before but it's fun to take a look at them again from time to time. Even if some of the marriages didn't last, these gowns have made their mark in history and in fashion. Hope you will enjoy today's look at some famous wedding dresses!

Jacqueline Bouvier Kennedy's Wedding Gown



Audrey Hepburn's Wedding Gown


Princess Grace AKA Grace Kelly's Wedding Gown


Priscilla Beaulieu Presley's Wedding Gown



Wedding Gown of Diana Princess of Wales




Wedding Gown of Celine Dion




Carolyn Bessette Kennedy's Wedding Gown



Courtney Cox Arquette's Wedding Gown




Wedding Gown for Catherine, Duchess of Cambridge formerly known as Kate Middleton


All pictures courtesy of Pinterest.


If you would like to join the Fashion Friday blog hop click on the picture below to see Kori's post on "Blonde Episodes" for details and to read her Fashion Friday post as well. You can also check out some of the other posts in the blog hop for fun. Happy Fashion Friday!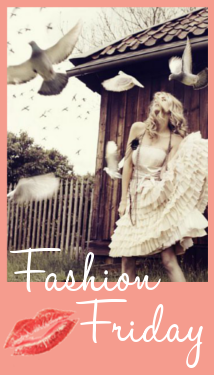 This is a Blog Hop!
1. Blonde Episodes
2. Glitter and Dirt
3. . . . this & that. . .
4. A Pink Tribute
5. Lili & Mae
6. Bow Blouses
7. Tim Burton for Harpers
8. A Day in the Life & Mind
9. Alas 3 Lads: Rain Boots
10. The Yuppie Files
11. Los Angeles Style
12. Blonde Recession
13. Scarfed
14. Mary and Dyer
15. Leeann @ Join the Gossip
16. Change of Seasons
17. LPRB: Fashion Friday
18. Celeb Cocktail Dresses
19. Just Fabu-LESS
20. Famous Wedding Gowns
You are next...
Click here to enter
This list will close in 2 days, 1 hrs, 33 min (10/30/2011 9:59 PM CST)
What is a blog hop?
Get the code here...
Get your own Linky Tools
< Previous Post
Next Post >
Report blog post as inappropriate