Posted by Total Beauty 02/02/12 at 09:00PM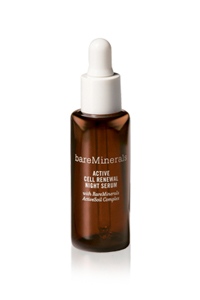 Ask any dermatologist the secret to fighting the signs of aging and here's your answer: Get a solid eight hours of shut-eye a night. That's because your skin's natural repair process begins while you're sleeping.
But as you get older, your skin needs more than just sleep to repair itself. Enter new Active Cell Renewal Night Serum from
bareMinerals Skincare
.
It works with your skin's natural repair process to maximize cellular renewal, boost moisture, and improve elasticity. Or in non-beauty jargon terms: It helps skin look and feel younger so you can wake up looking better than you did before you crawled under the covers for the night.