Posted by Total Beauty 04/24/12 at 03:15PM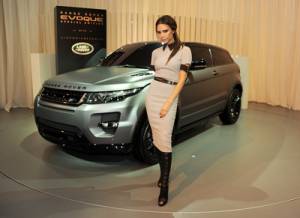 While Victoria Beckham's designs are regulars on the runway, now there will be one out on the open road, too. The British fashionista has partnered with Land Rover to create the Range Rover Evoque Special Edition, which made its debut in Beijing, China over the weekend.
Outfitted with matte gray paint and rose gold accents on the exterior and four leather seats in a vintage tan on the interior, it is every bit as sleek and sophisticated as Victoria herself.
"It's the small detail that makes all the difference. I want everyone who gets into this car to feel special and empowered by its quality and craftsmanship," says Beckham. "I like that it feels luxurious but also has quite a classic edge to it as well as a contemporary feel."
The car also comes with a four-piece Bespoke luggage set -- two wheeled suitcases for "him" and "her" plus wash bags -- based on her own luggage line as well as a hand-stitched leather wallet including a guide to the vehicle's exclusive features.
Land Rover will release 200 of these luxurious, special edition models. Visit www.landrover.com for more information.