Posted by Meghan Rabbitt 12/17/12 at 02:18PM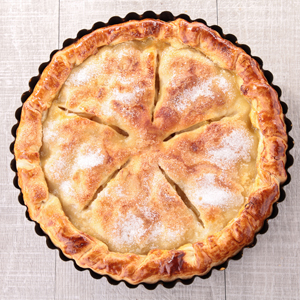 When I heard the news about the massacre at Sandy Hook Elementary School last week, I called my dad and my sister -- both schoolteachers in New York -- to tell them how much I love them. I was so sad; I didn't know what else to do.

When Beth Howard, author of "Making Piece: A Memoir of Love, Loss, and Pie" heard the devastating news, she remembered something her mother once told her: "Don't get sad, get busy."

So Howard, whose memoir is about her husband's sudden death and how baking pie helped ease her grief, posted the following on her Facebook page, The World Needs More Pie:

"Overwhelmed and heartbroken by today's tragedy, I feel like packing up my pie supplies into my RV and driving to Connecticut. If making pie and sharing it with the citizens of Newtown would help ease their pain, I would load up a hundred cases of apples and start driving right now."

A couple hours later, she'd added a PayPal button to her website, received nearly $2,000 in donations, bought every Granny Smith apple at her local grocery store, and loaded up her RV. On Saturday morning at dawn, she was on her way to Newtown, Conn.

Howard told a reporter for the Des Moines Register that making pie for the Newtown community helps her feel like she's contributing in a hands-on way. "I think people just feel helpless and need something to focus on," she said.

Right now, Howard and a large posse of volunteers are baking apple pies in Flanders, N.J. They bought every pie tin they could find in every Dollar Store they could get to. They're baking with supplies donated from giant companies like Costco and small farmers like Peter Melick of Melick Orchards in N.J. And tomorrow, they'll drive hundreds of apple pies to Newtown to offer up a little comfort, one slice of free apple pie at a time.

"It seems so trite -- we're going to go make pie," Howard said. "But I wrote a whole book about how pie heals grief. I've seen [pie] work its magic healing powers, so that's why I felt strongly about driving a thousand miles to do this."