Posted by Total Beauty 12/10/12 at 02:50PM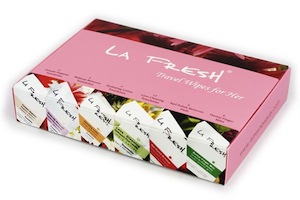 The holiday season is a time of merriment, gift-giving, and gathering with loved ones … complete with a packed holiday party schedule, jet lag, and a sudden spike in tagged pictures. Mix in the accessibility of spiked eggnog and crowded settings and the scene is set for a beauty blunder. Luckily, La Fresh has come to the rescue with their new Travel Lite Line, an emergency kit of quick fixes for people on the go.

The Travel Lite line turns high-end beauty products into lightweight wipes to correct any personal care faux pas. We're talking deodorant wipes after you hit the dance floor, nail polish remover wipes for unsightly chips, minty mouth scrublets following a visit to the cheese platter, and makeup remover wipes to fix raccoon eyes at baggage claim.

The best part? The entire Travel Lite line is just that: light. The wipes are compact enough for your sequined clutch or your carry-on, so you can sip your champagne at ease, whether you're at another holiday party or airborne and en route.