Posted by Total Beauty 08/20/12 at 04:38PM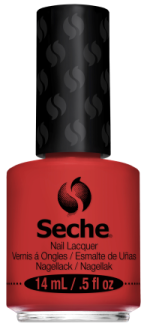 There are a few cult-classic beauty products that always top the "best of" lists: Mason Pearson hairbrushes, Elizabeth Arden Eight Hour Cream, Maybelline Great Lash Mascara.
A slightly lesser known (but just as amazing) product on our "best of" list: Seche Nail Lacquer Fast Dry Top Coat. It's been a favorite for years, but now we have a new reason to love the brand. Seche Vite just announced the release of their first collection of color polishes. Cue the giddy shrieks of DIY mani gals (like myself) the world over.
Not only are the 33 colors ideal for fall (lots of earthy neutrals, rich pinks, and vamp-y blues) but you don't even need to apply a topcoat. That's right, two coats and you're dry in less than 10 minutes -- seriously. The only thing you'll need patience for is the official launch of the line, which isn't until October.