Posted by Total Beauty 11/21/12 at 10:16AM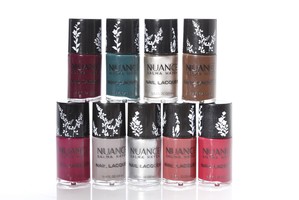 You can never have too much nail polish -- especially good, affordable nail polish --which is why we're excited for Salma Hayek's new nail collection, sold exclusively at CVS.

Encouraged by her 5-year-old daughter Valentina to explore the world of nails, Hayek is expanding her successful body, skin care, and cosmetic line, Nuance, with 30 new nail polish shades.

The collection will be featured in CVS's new beauty kiosk, Nail HQ, which showcases the newest nail trends and innovations. Executive Editor, Meghan Rabbit is already obsessed with the deep midnight blue hue, Nightshadow.

The nail lacquers will be available on November 19, and at only $6 a pop, you can feel free to stock up -- as we surely will.