Posted by Total Beauty 09/26/12 at 03:19PM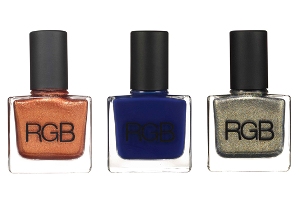 One of my biggest annoyances is nail polish that chips after two days. I don't expect my mani to last two weeks (unless I get a shellac, of course) but I do think five days is reasonable -- especially when I've dutifully applied a top coat.
Enter: RGB Cosmetics Nail Polish. The lacquer is easy to paint on and actually lasts through showers, daily keyboard use, and dish washing. What's even more amazing? The formula is free of harsh chemicals such as formaldehyde, toluene, and DBP. So not only do my nails look pretty, they're also healthy.
As if you need one more reason to love RGB, the brand's new fall collection ($16 each) boasts gorgeous colors: Flint, a multi-dimensional gold and silver metallic; Cobalt, a deep blue; and Copper, a rustic amber metallic. If you buy one nail polish this October -- the lacquers are available next week -- I'd suggest you try out one of these perfect-for-autumn shades.