Posted by Total Beauty 04/06/12 at 01:22PM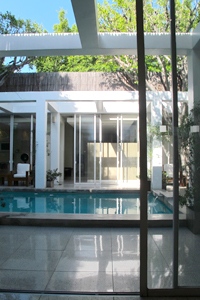 I'm sitting with a cup of coffee in my manicured hands, while my hair is getting blown out by two gorgeous men, looking out at a very serene, very peaceful, very pretty pool with lilies floating on its blue surface. I'm at the Serge Normant at John Frieda Salon on Melrose Place. I've had quite a few blowouts in my day, and let me tell you, I've never had a blowout done by two incredibly charming, good-looking, immaculately dressed men in suits and dress shoes.
After shampooing, conditioning, and drying my hair, celebrity hairstylist Jason Low takes one-inch vertical sections of my hair and wraps them around a 1/2-inch brush. Then he twists, flips the hair over, twists, flips it again, and with a flick of his wrist, he releases a perfect wave. Does that sound complicated? That's because it is.
I was mesmerized by his wrist-flicking, finger-mussing moves that tugged and curled my straight, drab, and bo-ring hair into that of a wavy, blown out, beachy goddess. That's right -- Victoria's Secret Angel, what's up?
It was mid-blow when I decided that I would find myself a hairstylist man to date. While I may sound a bit overzealous about great-looking hair (and great-looking men), it doesn't negate from the fact that this one-hour blowout truly is the creme de la creme of blowout bars in LA.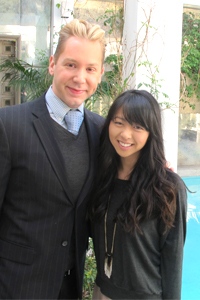 I wouldn't even be able to fathom how to do this at home. Thankfully I can go to these incredible hairstylists -- no, hair whisperers -- at the John Frieda salon who touch and muster my hair into perfectly blown out submission -- and you can too.
We're giving one lucky Angeleno a chance to win a free blowout of your choosing at this blissful piece of heaven on Melrose Place. Enter our giveaway on
Twitter here
by retweeting the giveaway tweet. You must live in Los Angeles to enter. Get your appointment with the hair whisperer now.
Serge Normant at John Frieda Salon
8440 Melrose Place
Los Angeles, CA 90069
(323) 653-4040