Posted by Total Beauty 03/28/12 at 12:19PM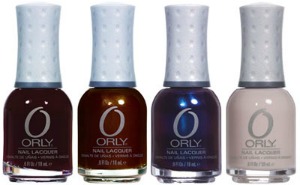 What with "The Hunger Games" nail polishes making the rounds right now, it's a pleasant surprise to see Tim Burton's upcoming "Dark Shadows" getting in on the movie-turned-lacquer action too. Along with the film's May release, a limited-edition collection by Orly will be available at orlybeauty.com, Sally Beauty, and Ulta.
Based on the cult classic television series, "Dark Shadows" follows a vampire played by -- you guessed it -- Johnny Depp. The four-color collection plays off the movie and includes: Mysterious Curse (Purple Duochrome Shimmer), Buried Alive (Rich Brown Shimmer), Grave Mistake (Deep Red Creme), and Decades of Dysfunction (Pale Pink Creme).
From April 1st through May 12th, fans can also try to win a private screening of the film for up to 50 guests via the
Orly Facebook page
. So keep your eyes peeled for these "Dark Shadows" shades.