Posted by Total Beauty 10/22/12 at 10:00AM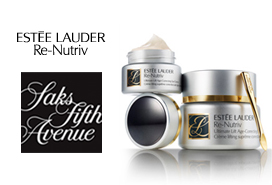 We love just about anything that says anti-aging. If it promises to help prevent wrinkles, sunspots, and other unsightly blemishes that'll show our age before it's time, we're game to try it. That's why we're excited Estée Lauder has launched new Re-Nutriv breakthroughs, which not only promise to help prevent the appearance of wrinkles in the future, but also deeply moisturize skin and improve tone for a smoother, firmer appearance.

The new innovations include the Intensive Age-Renewal Creme and Eye Creme, and there will also be additional products in the Ultimate Lift Age-Correcting Collection. All of the products offer tons of hydration and help with fine lines and give skin a radiant glow. To figure out your perfect match, check out saks.com or head to Saks Fifth Avenue to try the products in person.