Posted by Total Beauty 12/04/12 at 09:00AM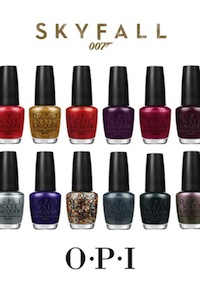 Is it just us, or do the James Bond movies always make you a little green with envy? Hot guys, amazing cars, exotic locations, and Bond girls so beautiful you start to feel bad about yourself. And the new Bond flick,"Skyfall," is no different.

Which is why we suggest you give yourself a Bond girl-worthy manicure before you see it (if you haven't already).

OPI's new Skyfall collection has 12 gorgeous shades, all inspired by Bond films. Our favorites? Live and Let Die (a jet black), Casino Royale (a deep plum), and Skyfall (a rich merlot). Check them all out at OPI.com. And also see how you can create the Bond manicure worn by Marlohe in "Skyfall"!