Posted by Cinya Burton 08/13/12 at 06:00AM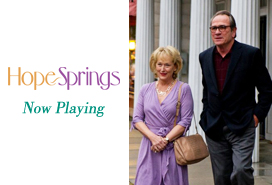 Need an idea for your next date night? Check out "Hope Springs," the new movie staring Meryl Streep, Tommy Lee Jones, and Steve Carell, and from the director of "The Devil Wears Prada." It's about a married couple (Streep and Jones) who need some help spicing things up in their lives. So they head to renowned couples specialist (Carell) for help. As you can guess, plenty of hilarity ensues.
It's a great movie to see with your guy, and of course, if you are making it a date night, you'll want to look your best. Check out a few "date night dos and don'ts" below for help:
Do: Wear a sheer lipstick or gloss (that way your date won't end up with bright lipstick on his lips when you inevitably start smooching).
Don't: Over-do it on the perfume. You only want him to be able to smell it when he's this close to you.
Do: Try loose waves or curls in your hair. It's sexier than a stiff updo.
Don't: Chew gum if your breath is less than fresh. Breath strips or mints work fast and are less distracting than chewing.
To learn more about "Hope Springs," click here
.