Posted by Cinya Burton 02/06/13 at 06:31PM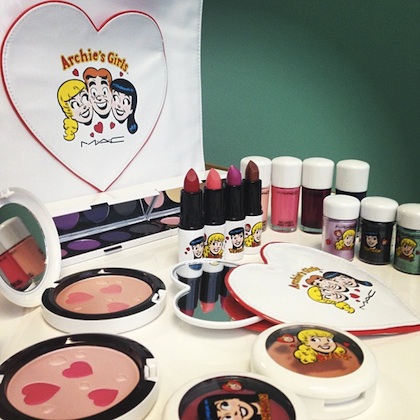 Last year when MAC Cosmetics announced they would be releasing a special Archie's Girl collection in February it seemed 2013 couldn't come quick enough. Then January ended and my excitement turned obsessive as I started checking our mailroom daily to see if the comic book makeup collaboration had arrived. My morning greeting became: "Has it come yet? Is it here?"

Finally the collection hit my desk it was just as adorable as we all knew it would be (after all, no one does limited edition products quite like MAC). Naturally, the collection is split into two parts: Betty and Veronica. Being a loyal member of Team Veronica since the 6th grade I'm partial to the gorgeous purple eyeshadow palette and deep red lipsticks in her line. Though Betty fans are sure to be happy with her pretty peachy and pink blushes and nail polishes.

While the makeup is standard MAC (read: colorful), the packaging is really the best part. Each eyeshadow pot, lipstick tube, and mascara wand features the face of either the famous blonde or her brunette frienemy. Not to mention there is a special mini brushes case, heart-shaped mirror holder, and tote adorned with the iconic love-triangle (yes, including everyone's favorite red head).

Suffice to say, this is guaranteed to be one of the few times Archie fans can agree on something.