Posted by Total Beauty 07/19/12 at 10:23AM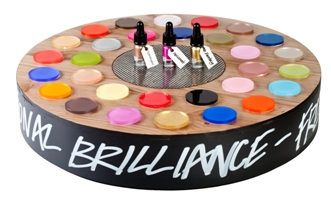 If you're a fan of
Lush
's amazing bath bombs and hand-cut soaps, then you're going to flip for their makeup collection, which launches this Saturday. It's called Emotional Brilliance, and the colors correspond to different feelings.
Sure, it sounds a little hippie-dippie, but it's all in good fun. Lush worked with strategic behavioral therapist and color expert Lady Kennedy to choose the palette. They even developed a special color wheel -- so next time you stop into a Lush store, choose the shade that speaks to you and find out what it says about your emotional state.
Even if color therapy isn't your thing, you'll still love the products. They glide on beautifully, last all day, and the pigments are bright and on trend (that's what we care most about). Plus, and the dropper-bottle packaging is irresistible.
We were surprised to find a mascara in one of these mini bottles, but it's just as easy to apply as a conventional wand. And one of the Lush experts told us there's actually three times more product in their mascara bottle than a regular tube. So if you're a mascara addict it may be exactly what you need -- emotionally or just aesthetically.