Posted by Cinya Burton 01/25/13 at 12:09PM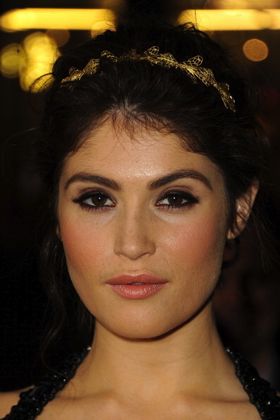 While I'm still on the fence about seeing "Hansel & Gretel: Witch Hunters" (I'm pretty sure the Brothers Grimm are rolling over in their graves), I'm 100 percent sold on Gemma Arterton's red carpet looks while promoting the film.

Last night, the actress stepped out with a romantic updo that would make a Grecian swoon. Having played a Greek goddess and a Persian princess before, Gemma certainly knows how to wear a crown, so it was no surprise she looked truly stunning in this gold leaf headband.

I first fell in love with this accessory when Keira Knightley wore a similar red Chanel style last year. Fortunately, a quick Etsy search turns up options that mimic this leafy headpiece -- at a fraction of the price.

Before securing your headband, be sure to tease your roots and mist all over with a texturizing product like Lush Sea Spray, $12.95, to get that tousled effect. Keep makeup simple by smudging deep purple eyeliner along the lash line and applying a peachy-pink tint to your cheeks and lips.