Posted by Total Beauty 04/18/12 at 05:37PM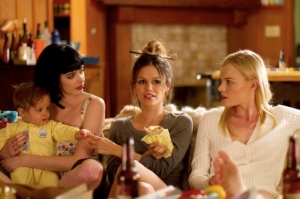 Krysten Ritter co-wrote "Life Happens," which she also stars in alongside Kate Bosworth and Rachel Bilson. When Ritter finally received funding for the film, one of the first things she did was call celebrity makeup artist Amy Nadine to ask her if she would head up the makeup department. Knowing that Ritter is a big fan of Tarte makeup, Nadine contacted the beauty brand to see if they would sponsor the film. All the pieces fell into place, and the three actresses can be seen wearing Tarte makeup throughout.
"I think for my character especially, I wanted to look like every girl, the girl next door, understated," Ritter said. "In the middle, I'm a little unkempt but still pretty. And with Kate's character, we really wanted her to look crisp, icy, and cool. Rachel's character marches to her own drum, so her look was a little more fun and sexy." To create the desired effects, Nadine used different shades of
Tarte Lipsurgence Natural Lip Stain
, $24. "It's like a balm, but there's also a lot of color," she said. And the chubby lip crayon even makes a cameo in the film. See if you can spot it while you're watching the movie.