Posted by Total Beauty 07/09/12 at 12:42PM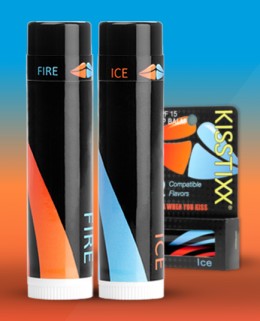 As if kissing wasn't exciting enough already, KISSTIXX has given us even more incentive to pucker up. The brand's new fruity lip balms give you a fresh burst of scent and flavor when the tasty flavors come together --- during a smooch.
KISSTIXX has six yummy flavor combos: Pina Colada & Strawberry Daiquiri, Sweet & Sour, Raspberry & Lemonade, Peaches & Cream, Strawberry & Chocolate, and Fire & Ice. You wear one half of the pair and give the other to your kissing partner. The result: a totally different kind of makeout session.
Each pair of lip balms is a steal for $5.99 and they're available online on the
KISSTIXX website
.