Posted by Total Beauty 08/23/12 at 04:53PM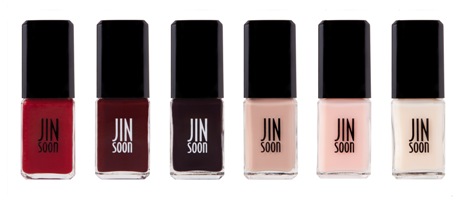 Referring to Jin Soon Choi as a manicurist is a major understatement -- nail guru, goddess or genius are all more appropriate. She is the proprietress of three beautiful New York City nail salons (Jin Soon Natural Hand and Foot Spa), works with celebrities, has an impressive editorial portfolio, and knows everything there is to know about nails. But she does it all quietly -- and that's probably why it took her more than 25 years to come out with her own line of JINsoon polishes.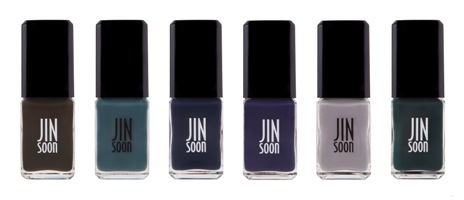 In the current climate of nail mania, Choi could have done anything -- diamonds! lace! glow-in-the-dark! -- but in true Jin Soon fashion, she showed restraint and opted for 12 chic shades. The polishes are divided into two collections: Quintessential, six classic reds and nudes, and A La Mode, six seasonal colors like olive and dark purple. And because everyone knows that color names are so important, she asked six fashion models to name the fall offerings. (One of our favorites is Rhapsody, a dark gray-blue that was named by Coco Rocha.)
Because Choi took her time, she was able to formulate her polishes without toxic chemicals like formaldehyde, toluene, DPB and camphor and still achieve a rich, shiny finish. To round out the collection, there's a quick-drying top coat and a strengthening base coat -- both of which work incredibly well.
JINsoon polishes are available for $18 at Sephora and Space NK. And next time you're in NYC, we recommend stopping by one of her spas -- it's an experience you don't want to miss.