Posted by Total Beauty 03/26/12 at 05:19PM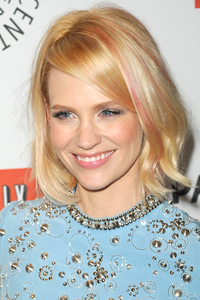 If there's anyone who can work a trend hot off the runway it's January Jones. At PaleyFest's nod to "Mad Men," the Emmy and Golden Globe-nominated actress took to the black carpet with stand out, rose gold highlights in her blonde hair.
"She really is a perfect candidate [for the highlights] because she has amazing style and isn't afraid to take risks," says Jennifer J., Wella Professional Celebrity Colorist and co-founder of Juan Juan Salons, who custom-blended and did January's coloring herself.
But with spring and summer fast approaching, Jennifer says it's the perfect time for anyone to mix up their usual "do" with just a hint of color. "It has always been risky in the past," admits Jennifer of the style. "But now with the colors being muted and not overbearing, everyone can wear it as long as it's just a small panel of color." Are you ready to go for the rose gold, too?