Posted by Total Beauty 05/18/12 at 01:59PM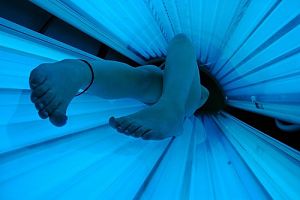 Looks like "Tanning Mom" isn't the only one with a bronze obsession. Despite the fact that experts continuously stress the dangers of ultraviolet radiation exposure -- from both the sun and indoor tanning -- women continue to put themselves at risk.
According to the Centers for Disease Control and Prevention's "Morbidity and Mortality Weekly Report," 32 percent of young, white women ages 18 to 21 used indoor tanning equipment at least once in the past year. In the same time span, this group's average use was a whopping 28 times. This startling report comes at a time when several states are looking to follow in California's footsteps and legally ban indoor tanning for minors.
Melanoma is already the seventh most common form of cancer and indoor tanning at a young age (before 35, to be exact) increases the chances of getting melanoma by 75 percent. Not only is this number shocking, but it could mean higher rates of skin cancer in the future.
People ages 18 to 29 also say they got sunburned at least once in the last 12 months. Take it from us, there are plenty of
safe, healthy ways to get summer-ready skin
. And we'll say it again: Stay out of those tanning beds and slather on plenty of sunscreen daily.