Posted by Total Beauty 04/09/12 at 02:23PM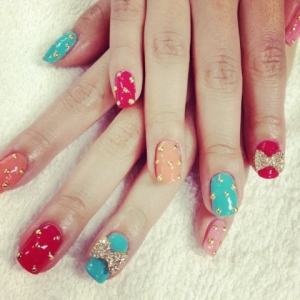 Japan is known for many things. Eccentric Harajuku fashion, an 18-step skin care regimen, and a five-floor "sex museum." But above all, Japan is the uncontested country for having the most fabulous
nail art
.
While nail art is just beginning to trend in the states, Japan has been obsessed with gluing, bedazzling, and decoupaging their gel-manicured hands for more than 18 years. Nails have become just as much a fashion staple as the v-neck t-shirt -- everybody wears it.
And the woman that's put Japan on the nail art map is Aiko, the celebrity nail artist that's responsible for Lady Gaga's and Katy Perry's red carpet nail decor. From Swarovski crystals to studs to gigantic bows that Hello Kitty would be proud of, Aiko has carefully glued them all at her seven salon locations in Japan. And now these gorgeous nails can be yours too with her first international store on Melrose Avenue in Los Angeles.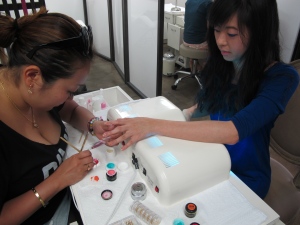 I, your resident nail aficionado, was the first in line to get my nails done by the celebrity artist. I chose a more demure look, as I'm not planning on gracing the red carpet with my egg-tastic presence any time soon a la Gaga.
She first took out a few different gel colors including hot pink, red, and turquoise, then she mixed the colors together to create gorgeous unique shades like melon and petal pink that you can't get from a bottle.
After applying the gel polish, Aiko then applied gold studs and bows to my nailbeds. Um can I stay stunning? Everybody, from women to children, and even my hairstylists are stopping me and asking to take pictures -- of my nails, that is. While I'm not as famous as Aiko's celebrity clientele, I'm definitely feeling the paparazzi that come with these hot nails.
I got a chance to sit down with Aiko and ask her a few questions. See our interview below:
Q: Why did you choose Los Angeles to be the location of your first international store?
A:
Originally, nail treatments came from America. Then we, in Japan, turned nail polish into a fashion piece. So we're so excited to come back to the states. I love LA. The sky is beautiful and the people are so nice, fashionable, and cute. We would love to introduce our nail treatments in such a town. We first looked in West Hollywood, the Sunset strip, and then we found this brand new building on Melrose and it was perfect. I fell in love with this intersection, with the stores, and the vibe of this street.
Q: What inspires you to create these amazing nail art designs?
A:
Fashion magazines, art galleries, jewelry -- anything and everything that I see. Often times I draw the designs on paper, but we do create them on the nails as we see fit.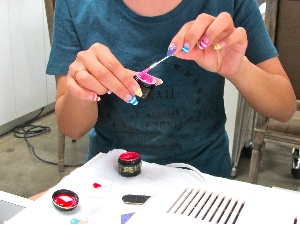 Q: You mix the gel colors to create unique colors of your own -- how do you know which shades will work well together and will be flattering?
A: Since we're coloring nails, we look at the hues that would flatter your skin tone. We're trained to see the variations of all the colors. Even if we're working with pink, there is gray pink, purple pink -- so many hues of pinks that can flatter different skin tones. Then I make sure the color fits with the current trends in fashion.
Q: How do you think nail art affects women?
A:
With makeup, fashion, and hair, you have to look at a mirror to look at them. But with nails, you don't need anything but just to see them in front of you and you get happy. When you take off your makeup and clothes, even though you're naked, the nails are still there. It's the constant showcase of your style.
Q: What's your goal in LA?
A:
We'd like to open two more stores in Los Angeles, then head to New York City next. Getting your nails done is a weekly, monthly treatment in Japan. Just like you would get your hair cut or styled on a regular basis, we want to instill that nail art culture in the states.
Located at: 8384 Melrose Avenue, Los Angeles, 90069
Phone: 323.655.5800
For more information, visit their website at www.es-nail.jp/us.