Posted by Total Beauty 02/09/12 at 01:59PM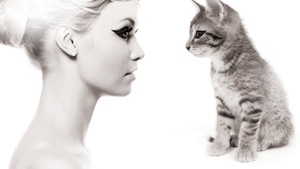 Even if you're more of a dog person, you have to admit the cat eye is a bold makeup look that's here to stay. See how to master it for your next night out with tips from celebrity makeup artist, Taylor Chang-Babaian, author of "Style Eyes."
Tools:
- A gel or cream-based eyeliner pot in black. Try
Shiseido The Makeup Accentuating Creme Eyeliner
, $26, or
Maybelline New York Eye Studio Lasting Drama Gel Eyeliner
, $9.99.
- An angled eyeliner brush.
- A business card.
Application:
Step 1: Apply the liner with an angled or pointed brush from the inner to the outer edges of your upper lashline.
Step 2: Place the business card against your outer corner, angling it at a 45-degree angle. Then with your liner, use your card as your ruler for your winged tip.
Step 3: Using short strokes, draw a line from the inner corner of your lower lashline all the way across until you connect to the line on top. You can make the bottom line thicker if you want to evoke a Sophia Loren look.