Posted by Sarah Carrillo 09/10/12 at 10:00AM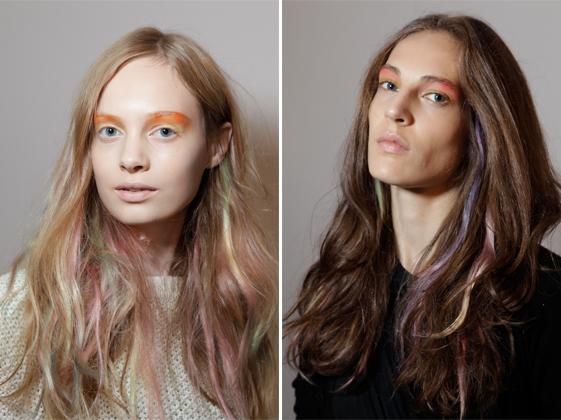 The hair we spotted backstage at Peter Som proved one thing: The pastel hair color trend is here to stay. Wella Professionals Color Ambassador, Aura Friedman, called the multi-colored hair "a fusion of metallics and pastels melting into each other." She and her team hand-painted 22 hair pieces with 10 different shades of hair color from the Wella ILLUMINA COLOR line, which debuts next year.

As for the inspiration, Som looked to New York City and calls the look "classic East Village cool girl -- natural easy hair with touches of faded color." He collaborated with Global Creative Director for Wella Professionals, Eugene Souleiman, to come up with the easy, undone style. "I didn't want it to look too obvious or contrived," says Souleiman.

To get the look, he applied Wella Professionals Velvet Amplifier, $16, to damp hair and then loosely blow dried the hair with his hands for a tousled effect. He created a center part and added the pastel extensions. Then, he used Wella Professionals Ocean Spritz, $12, throughout the hair for texture, twisted it into a loose bun and let the waves set. Finally, right before the models hit the runway, he unclipped the buns and used Wella Professionals Texture Touch, $14, to add even more texture and roughness to the hair.

So far this season, unfussy hairstyles seem to be the trend for Spring 2013, and this look takes it to the next level with gorgeous pastel color. Aura couldn't have been more proud of the results. "There's nothing more fun or more creative than color like this," she says.