Posted by Total Beauty 01/10/13 at 11:39AM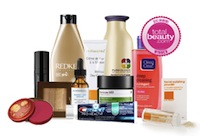 How are those New Year's resolutions coming along, everyone? I'd like to say my "exercise every day, no more soda, no more coffee" one was going smoothly … but the empty can of Coke Zero on my desk would suggest otherwise. Sigh.

If you're feeling the same, then maybe this grab bag of mood-boosting beauty products will give you the motivation you need to tackle those slightly unrealistic goals. At the very least, this collection of Total Beauty Award-winning products will help you look amazing -- and that's half the battle, right? Here's what you could win:

Pureology Perfect 4 Platinum Shampoo
Redken All Soft Conditioner
Murad Hybrids Skin Perfecting Primer Acne and Shine Control
Dr. Hauschka Melissa Day Cream
Physicians Formula Cashmere Wear Ultra-Smoothing Bronzer
Listerine Original Listerine Antiseptic Mouthwash
Perricone MD Hypoallergenic Firming Eye Cream
SkinCeuticals Blemish + Age Defense
Crest Pro-Health Clinical Gum Protection Toothpaste

Intrigued? Then click here to enter for your chance to win!