Posted by Total Beauty 09/11/12 at 04:06PM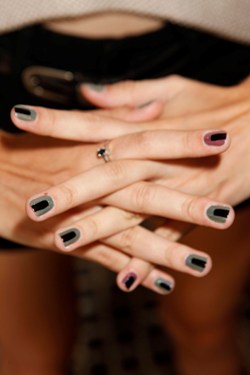 Pastel colors and the moto-chic trend may seem like polar opposites, but the nail design at VEDA's 2013 Fashion Week presentation proved that spring palettes can still be edgy. Drawing inspiration from VEDA's collection of leather, psychedelic prints, and tie-dye dresses, Butter LONDON's new Global Color Ambassador, Katie Hughes, created the custom "Cosmic Nail" to complement VEDA's effortlessly cool vibe.

To get the look:

1. Start by painting some of your nails in butter LONDON Toff, $14, and other nails in butter LONDON Sloane Ranger, $14. Alternate the mauve and olive colors in a non-specific order on both hands.
2. Let this dry completely, and then paint a stripe of butter LONDON Union Jack Black, $14, up the center of the nail for a geometric vibe.
3. Let this dry, and then apply butter LONDON Knackered, $14, as a top coat to create that holographic effect.