Posted by Total Beauty 01/23/13 at 01:50PM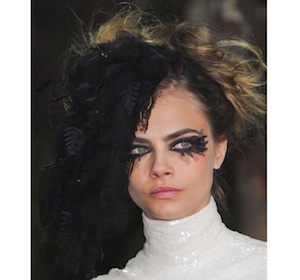 What do you get when you mix one part gothic woodland fairy, one part Black Swan, and sprinkle in a dash of Tim Burton for good measure? The crazy eye looks at Chanel's Spring 2013 Haute Couture show.

Models walked down a runway reminiscent of "A Midsummer's Night Dream" dressed in Karl Lagerfeld's latest creations with an ethereal meets edgy eye look that makes even the most exaggerated of cat eyes look tame.

Chanel's Global Creative Director of makeup Peter Philips was the man responsible for the dramatic makeup on Cara Delevingne and co. Philips applied wing-shaped, mesh lashes along the lash line, blurring out the edges with a graphite pigment to create a smokey, smudged effect. The lids were filled in with a shimmery black shadow to create an eerie and mysterious look.

What do you think? Did Chanel nail gothic chic?