Posted by Total Beauty 02/27/12 at 11:05AM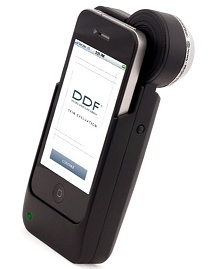 Of course you know you should go to the derm once a year (and we can't stress enough how important it is), but a recent study found that 60 percent of women have actually
never
been to a skin doctor. And unless they have a serious problem or concern, they may never make an appointment -- even if they aren't happy with their skin care routine.
To help women who need basic skin care advice,
DDF
invented a new special device called the Skin Evaluation System. It attaches to an iPhone and takes photos of the skin at a microscopic level. The photos are then assessed by a computer program, which suggests the best treatment regimen. Unfortunately, it's not as simple as downloading an app -- but almost: DDF representatives are now available at Sephora stores around the country. You can check out the schedule on
Facebook
-- while you're waiting for your dermatologist's next available appointment.